Ukraine conflict: Part of Luhansk 'retaken' from rebels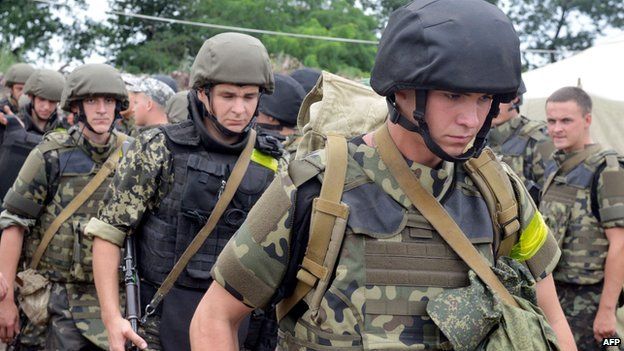 Ukraine's defence minister says part of the rebel-held eastern city of Luhansk has been retaken by government forces.
Valeriy Heletey said government troops had captured the south-eastern section and had surrounded the airport.
Electricity and water supplies were earlier knocked out in much of the city and a major oil refinery was reportedly on fire.
Shelling has killed more than 20 people, the city council says, as Ukrainian forces fight the rebels.
Correspondents say there are differing reports as to who is to blame.
There is no sign of a ceasefire in east Ukraine despite pressure for a truce after Thursday's airliner crash.
Malaysia Airlines flight MH17, with 298 people on board, crashed between Krasni Luch in Luhansk region and Shakhtarsk in Donetsk region, amid suggestions it was downed by a surface-to-air missile fired from a rebel area.
A statement on the president's website read: "The Minister of Defence, Valery Heletey, told President Petro Poroshenko that Ukrainian armed forces took control of the south-eastern part of Luhansk."
The Russian RIA news agency earlier reported that the oil refinery in Lisichansk, in Luhansk region, was ablaze. News and pictures of the fire also came on Twitter on Friday, though the cause was not immediately clear.
The shelling also damaged an electricity substation in a district of Luhansk.
The BBC's Vitaliy Shevchenko says that with tensions high following the crash of the airliner, both sides in the Ukraine crisis are playing a high-octane blame game on social media, with lots of mutual finger-pointing as to who is responsible for the shelling.
Almost all of Luhansk lacks water and electricity - the result of shells damaging an electricity substation in Kamennobrodsky district, the Russian news website Lenta.ru reports.
The Ukrainian news agency Unian, quoting a Luhansk city council statement, said the power cut had brought water pumping stations to a standstill.
Shooting is continuing in the area, preventing engineers reaching the electricity substation, Unian reports.
Several explosions were also heard overnight in the rebel-held city of Donetsk, as well as sustained shooting around the city's airport, Unian said.
More than 1,000 civilians and combatants have been killed since mid-April, when Ukrainian security forces moved to regain control of the eastern regions, while tens of thousands of people have left the region.
Both sides possess and use heavy weapons such as multiple rocket launchers and tanks.
Related Internet Links
The BBC is not responsible for the content of external sites.