MH17 flight: Netherlands mourns its many dead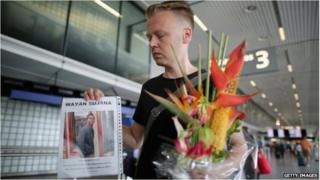 The Netherlands is a nation in mourning.
Flags fly half-mast on the parliament building in respect for at least 173 Dutch nationals on board flight MH17.
It is one of the most devastating air disasters in the country's history.
The Dutch prime minister expressed his "deep shock" but urged restraint, encouraging people to avoid speculation and wait for the facts. He has also promised to have the Dutch victims bodies repatriated as swiftly as possible.
King Willem-Alexander shared his condolences and cancelled a planned royal family photoshoot that was scheduled to take place today.
Parliament has confirmed the Dutch senator Willem Witteveen was on board flight MH17. A leading Aids researcher from the Netherlands, Professor Joep Lange was also among the casualties.
Human elements
The numbers dominate the headlines but it is the personal stories on the inside pages that capture the overwhelming impact of the tragedy.
The Algemeen Dagblad newspaper has spoken to "Kevin". His family run an Asian restaurant in Rotterdam. Both of his parents were on board the Malaysia Airlines plane.
In the Telegraaf, a couple in their early thirties who ran a florist in Volendam. Friends say they were going on a "well-deserved holiday".
Before boarding flight MH17, Cor Schilder posted a picture of the Boeing 777 just before he boarded on Facebook, joking: "Just in case it disappears..."
A page on the Dutch condolence website has been inundated with more than 10,000 messages of sympathy and support for the families.
Last night we stood by as the stunned relatives dashed through Schiphol airport. A bar was sealed off to act as a temporary crisis centre.
Flights continuing
As the families emerged, it was clear their worst fears had been confirmed. Silent, stunned, united in grief and disbelief.
Those who wish to visit the crash site are being flown to Kiev before being transported to the area in eastern Ukraine.
Flights from Schiphol have not been affected. Earlier another Malaysia Airlines flight MH17 took off as scheduled 24 hours after the one that now lies in charred pieces in a field in Eastern Ukraine.
TV crews from all over the world have congregated on the tarmac outside the doors of Departures 3, reflecting the international nature of this complex catastrophe.
A small cluster of floral tributes, propped against the glass, add a flash of colour to an otherwise grim and hopeless scene.