Turkey police held over Erdogan spying allegations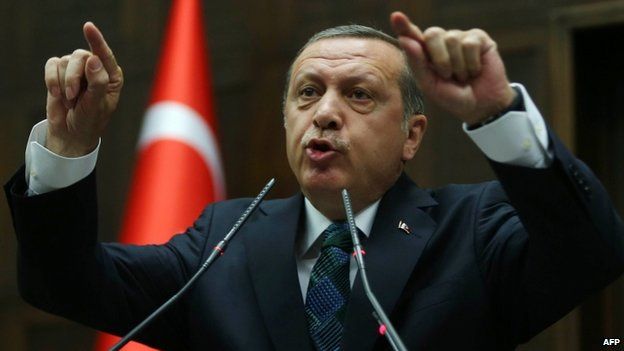 At least 67 police officers have been detained in Turkey on suspicion of spying and illegal wire-tapping.
The allegations involve police who were part of a corruption investigation that targeted PM Recep Tayyip Erdogan's inner circle.
Among those arrested in raids that took place across Turkey are two former heads of Istanbul's anti-terror police.
One of the two men, Yurt Atayun, told reporters: "They handcuffed me from behind. It's all political."
The Istanbul prosecutor said that thousands of people had had their phones tapped, including the prime minister, senior ministers and the head of Turkish intelligence. Arrest warrants had been issued for more than 100 suspects, he said.
The corruption inquiry emerged last December and led to the sons of three ministers being detained and, ultimately, four ministers leaving their jobs.
The prime minister alleges the investigation was orchestrated by supporters of US-based Muslim cleric Fethullah Gulen, once his rival in Turkey.
Mr Erdogan and his son, Bilal, were then caught up in February in a subsequent wire-tap which appeared to show them talking about hiding a large sum of money.
One of those arrested on Tuesday was the former deputy head of Istanbul's financial crimes unit who was on duty at the time of the February operation, reports say.
Mr Gulen told the BBC earlier this year that government allegations of his movement's involvement in the corruption inquiry were made "to frighten people about this non-existent phantom threat".
The prime minister told reporters on Monday that he would not back down from his bid to "clean up the state".
He earlier revealed plans to assign "super judges" to an impending operation against Mr Gulen's Hizmet (Service) movement, which Mr Erdogan sees as trying to create a state within a state.
Related Internet Links
The BBC is not responsible for the content of external sites.