France bus crash kills children near Troyes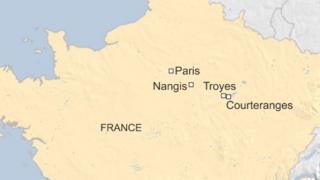 Five children and at least one other person have been killed in a minibus crash near the French city of Troyes, south-east of Paris, officials say.
The minibus, said to be carrying children aged 13 to 14, collided with a lorry on a minor road. One of two adults on board also died.
Several other people were hurt, reports say.
President Francois Hollande has spoken of his very great sadness at the crash, in a statement from the Elysee Palace.
Interior Minister Bernard Cazeneuve was due to go the scene of the accident close to Courteranges in the Orient Forest national park in France's Aube region.
L'Est Eclair newspaper said the children were on their way home from a youth trip in the forest when the crash happened.
They were from the town of Nangis between Paris and Troyes, the report said.
Local MP Jean-Claude Mathis told French TV that the two vehicles had collided head on. Unconfirmed reports suggested the minibus had veered into the path of the lorry.
The front of the minibus was completely destroyed in the accident.
Prime Minister Manuel Valls said an inquiry would determine what led to the crash.
Two other children and a second adult on the minibus were seriously hurt.
Michel Billout, the mayor of Nangis, told BFMTV "it is a drama that I wouldn't wish on anybody".