Irish National Sheep-dog Trials take place in County Donegal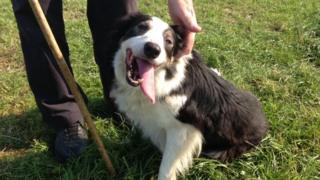 Up to 5,000 people are expected to attend the Irish National Sheep-dog Trials in County Donegal, which began on Thursday morning.
The competition is taking place at An Grianán estate, Burt, over three days.
About 150 dogs and handlers from the Republic of Ireland, Northern Ireland and the Isle of Mann are competing for the title of Irish National Champion.
The 15 best performers will also win an opportunity to represent Ireland at the International Sheep-dog Trials.
'Big challenge'
The Irish president of the National Sheep-dog Trials, Conn McGarry, told BBC Radio Ulster that the weather in Burt was "brilliant" so far and they were looking forward to a very enjoyable event.
However, he said the County Donegal course presented quite a test for the competitors.
"It's big, wide and open here in An Grianán, there are no guides or fences for the dogs to follow. There are five sheep in the middle of wide, open spaces and the big challenge is to get out clean behind those sheep, without your dog running away and getting lost," Mr McGarry said.
The president added that a lot of effort goes into training sheep-dogs and the best competitors can cost "thousands" of pounds.
"There has to be a lot of respect and trust between dog and handler," Mr McGarry added.
"There are some sheep harder to handle than others, but the dogs are very professional, like the handlers, and they learn to cope and deal with whatever is out there."
The international competition will be held in County Roscommon in September, where the 15-strong Irish team will compete against teams from England, Scotland, Wales and the Isle of Mann.