McDonald's in Russian court case over standards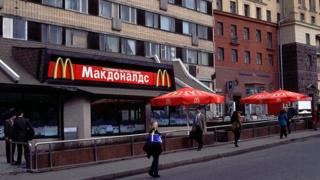 Russia's main consumer watchdog has filed a lawsuit in Moscow against McDonald's, urging the restaurant chain to withdraw certain products.
Rospotrebnadzor said its inspectors in the city of Novgorod, western Russia, had found violations of food standards by McDonald's.
The US fast-food chain could not immediately be reached for comment.
Cheeseburgers and Filet-o-Fish are among the foods named in the complaint. Russia is a major market for the firm.
In early April McDonald's suspended work at its three Crimean restaurants, following Russia's annexation of the Ukrainian Black Sea peninsula.
McDonald's operates about 400 restaurants in Russia. The first one opened in Moscow in 1990, and the burgers quickly became very popular among Russians.
The court case comes at a low point in Russian-US relations, after Washington imposed sanctions on some top Russian officials and firms allegedly linked to the pro-Russian uprising in eastern Ukraine.
Rospotrebnadzor's complaint alleges contamination of a McDonald's product tested in Novgorod and misleading nutritional information, Russian media report.
Ukraine dairy boycott
Separately, Russia's food hygiene authorities have announced a ban on dairy imports from Ukraine.
Russian officials spoke of sub-standard quality controls. Dairy produce accounts for only a small fraction of Ukraine's exports to Russia, Reuters news agency reports.
The ban follows similar moves against Ukrainian food and drink exports in recent months, amid a crisis in relations between Kiev and Moscow. The Ukrainian authorities say Russia is using trade to exert political pressure.
Previously Russia has also imposed such boycotts on Georgia and Moldova - former Soviet republics, like Ukraine, whose pro-Western policies have angered the Kremlin.