Political turmoil again in Ukraine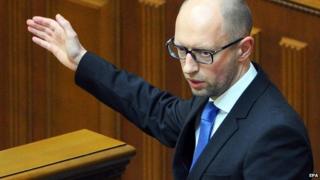 Ukraine's interim coalition government has fallen apart as troops fight pro-Russian separatists in the east and the economy risks collapse.
Parliamentary elections are likely in the autumn. Does this mean Ukraine's pro-European orientation will continue, or will the political set-up change dramatically once again?
Why did the government fall?
The European Choice government formed after the toppling of pro-Russian President Viktor Yanukovych in February was a coalition of convenience.
The populist Fatherland Party, the novice democratic Udar movement, and the nationalist Svoboda (Freedom Party), along with independents and defectors from Mr Yanukovych's Party of Regions, were unable to agree on the tough economic measures that Ukraine's dire financial state requires.
Udar and Svoboda withdrew from the coalition, prompting Prime Minister Arseniy Yatsenyuk to resign on 24 July.
What happens next?
After his convincing election win in May, President Petro Poroshenko said the country needed a new parliament to convince the IMF and World Bank that Ukraine deserved vital loans.
The collapse of the coalition launches a 30-day period in which parliament needs to approve a new coalition or face dissolution.
The latter option is almost certain, and most observers expect President Poroshenko to call elections next month for 26 October.
How are the pro-European parties placed?
Most parties have been shaken apart by the post-February convulsions, and voters can expect to see new players on the autumn political stage.
President Poroshenko's new Solidarity Party and its ally, Udar, are the parties best-placed to lead the pro-Europe bloc.
Oleh Lyashko, leader of the new Radical Party and a former member of Fatherland, came third in the presidential election and is gaining popularity with a strong anti-separatist stance. He would be a possible ally of the pro-Europe bloc.
What about pro-Russian voters?
In the opposition and pro-Russian camp, the crippled Party of Regions and its satellite Communist Party seem set to disappear.
In their place, the Ukrainian Choice movement, led by the openly Kremlin-linked Viktor Medvedchuk, is trying to reach out to pro-Russian voters in the densely-populated east and south of Ukraine.
Ukrainian media say the movement is funded by Russia. In the past year it has certainly found the funds to build a solid media presence through the Vesti group, which runs a daily newspaper, weekly magazine, popular website and radio station. It plans to launch a Vesti TV channel as well.
The big question a party like Ukrainian Choice faces is whether voters in the south and east - assuming the government re-establishes control over the area by October - are ready to trust openly pro-Moscow groups.
What role could Russia play?
Russia faces a choice. It can step up military pressure in the east, although this might deprive pro-Russians of a chance to vote in the elections.
This strategy failed to block Mr Poroshenko's win in May, and would be unlikely to work in the autumn.
Moscow may instead decide to cut its losses in eastern Ukraine, given the increasing international pressure, and withhold support from the separatists.
This would give it a chance to regain influence through political and financial means.
But the stranglehold Moscow has on Ukraine's energy supplies would be a powerful way of concentrating voters' minds, especially as winter approaches.
CORRECTION 12 Aug 14: Some erroneous lines referring to Ukrainian party politics were removed from the original piece.
BBC Monitoring reports and analyses news from TV, radio, web and print media around the world. For more reports from BBC Monitoring, click here. You can follow BBC Monitoring on Twitter and Facebook.