Gaza conflict: Berlin protests show dividing lines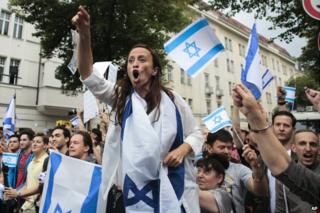 The Gaza conflict arrived in West Berlin's leafy main boulevard of Kurfuerstendamm on Friday.
About 1,200 pro-Palestinian protestors processed past the designer shops, watched by elegant ladies sipping coffee in nearby cafes.
The vast majority of the demonstrators were from Germany's large Muslim community: women in headscarves; a protest leader reciting words from the Koran into a loudspeaker.
Many of the protesters held up signs condemning Israel's actions, chanting "freedom for Gaza".
Confusingly the chants from the 700 pro-Israel demonstrators sounded very similar: "Free Gaza from Hamas," they shouted.
They looked very different though. Some were older members of Germany's Jewish community.
But the most outspoken and loudest were student left-wing activists - most not Jewish, but passionate about fighting what they called anti-Semitism.
There were young people on both sides clearly eager to pick a fight.
The pro-Israeli left-wing activists screamed at police, provocatively running towards the pro-Palestinian protestors waving Israeli flags. While young Muslim men jeered and shouted threats over the police lines.
Scuffles broke out repeatedly. And tourists in a nearby restaurant looked startled as suddenly pro-Israeli activists jumped on tables waving flags, and riot police formed a line around the restaurant to stop young pro-Palestinian men attacking.
But the vast majority of protestors were peaceful: Jewish Germans holding up signs for peace; headscarved women holding hands to form a human chain to prevent extremists from either side attacking each other.
More than 1,000 police were deployed, preventing any serious outbreak of violence.
The difficulty for many Germans is to know which side to support: Holocaust guilt has made supporting Israel a doctrine of faith for the German government. And anything that calls Israel's existence into question is beyond the pale.
At the same time many Germans are disturbed by the death toll in Gaza and don't agree with Israel's actions.
Can you criticize the Israeli state without being anti-Semitic, many Germans are asking themselves? And, in view of Hitler's legacy, do Germans have the right to tell Israel what to do? No, say some German commentators.
Left-wing activists are particularly divided, not knowing if they should fight alleged anti-Semitism or defend the Palestinian victims of what the far-left refers to "capitalist imperialism".
Ironically right-wing extremists are also conflicted.
Neo-Nazis have been using the chance to express their anti-Semitic views at other anti-Israel protests this week. But Germany's far-right doesn't like Muslim immigrants either.
Suddenly some pretty uncomfortable alliances are being formed.