EU sanctions weaken anti-terror efforts - Russia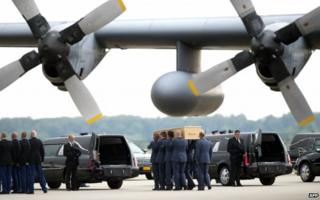 Russia says new EU sanctions against it over the Ukraine crisis will jeopardise security co-operation against terror.
The Russian foreign ministry said the EU would bear the blame for the move which sees 15 officials and 18 entities subject to asset freezes and visa bans.
The EU and US accuse Russia of backing Ukraine's rebels. Moscow denies this.
Meanwhile, the last remains of the victims of the crashed Malaysian airliner flew out of eastern Ukraine for the Netherlands.
The departure of the aircraft from the city of Kharkiv with 38 coffins brings the total number of bodies sent for identification to 227.
The Malaysia Airlines Flight MH17 from Amsterdam to Kuala Lumpur crashed on 17 July, killing all 298 people - including 193 Dutch nationals - on board.
Pro-Russian separatist rebels in eastern Ukraine have been accused of downing the plane by a missile.
Russia has frequently denied sending heavy weapons into Ukraine. Moscow has suggested the plane could have been shot down by the Ukrainian military. Ukraine has denied the charge.
The fighting in eastern Ukraine erupted in April and is believed to have claimed more than 1,000 lives.
'Threatening' tone
In a statement, the Russian foreign ministry said the new EU sanctions showed that the 28-member bloc was taking "a complete turn away from joint work with Russia on international and regional security, including the fight against the spread of weapons of mass destruction, terrorism, organised crime and other challenges".
"We believe these decisions will be greeted enthusiastically by international terrorists".
In a separate statement, the Russian ministry also accused the US of "an unrelenting campaign of slander against Russia".
The EU sanctions were agreed after lengthy negotiations in Brussels on Friday.
The senior Russian officials targeted include Federal Security Service head Alexander Bortnikov, foreign intelligence head Mikhail Fradkov and Nikolai Patrushev, the secretary of the Russian security council.
The leader of Russia's southern Chechnya republic, Ramzan Kadyrov, is also on the list.
The tone of the latest Russian statement on the EU sanctions is indignant, even threatening, the BBC's Sarah Rainsford in Moscow reports.
If the aim of international sanctions was to force Russia to change its stance on Ukraine, it is clear that that so far this is not happening, our correspondent says.
Crash site talks
In Kharkiv, teams of Dutch and Australian police are waiting for clearance from both Ukraine and the pro-Russian rebels to help search for the remaining bodies at the crash site near Grabove, which is controlled by the rebels.
They hope that such a deployment would allow experts, who have faced difficulties gaining access to the site, to proceed with the investigation amid continuing fighting in the region.
Malaysian PM Najib Razak has said he will fly to the Netherlands next week to discuss the issue.