Ukraine conflict: New EU sanctions hit top Putin aides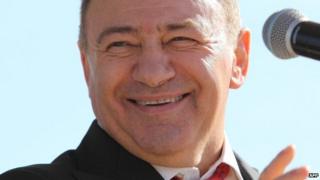 A former judo sparring partner of Vladimir Putin is among three of the Russian president's close aides on a new EU sanctions list.
The EU says billionaire tycoon Arkady Rotenberg runs firms which profited from the 2014 Sochi Winter Olympics. He is also under US sanctions.
The asset freezes and travel bans target Russian officials accused of undermining Ukraine's sovereignty.
The major shareholders in Bank Rossiya, close to Mr Putin, are also listed.
Mr Rotenberg's construction projects include a contract to build a bridge linking Russia with Crimea.
Western leaders are using sanctions to punish Russia for its annexation of Crimea in March and its support for the pro-Russian separatists fighting in eastern Ukraine. The rebel cause has been helped by Russian heavy weapons and volunteers, according to Western intelligence.
The downing of a Malaysia Airlines jet on 17 July - allegedly hit by a Russian-made missile - fuelled calls for tougher action against the Kremlin and the rebels in Ukraine.
The EU says Bank Rossiya "is considered the personal bank of senior officials of the Russian Federation".
The bank's chairman Yuri Kovalchuk owns about 38% of the bank's shares. He is now on the EU and US sanctions lists, along with Nikolai Shamalov, who has a 10% stake in the bank.
Exclusive 'dacha' circle
Bank Rossiya is the 17th largest bank in Russia, with assets of approximately $10bn (£6bn).
The bank's top shareholders are also co-founders of the Ozero Dacha Co-operative, a housing community on the shore of Lake Komsomolskoye near St Petersburg founded in 1996, whose original eight members are a close-knit group around Mr Putin.
The US sanctions also target Bank Rossiya itself - not just the top managers.
In addition, the EU stepped up sanctions this week to target key sectors of the Russian economy - oil industry technology, dual-use technologies in the defence sector and Russian state banks' access to Western capital. The new restrictions will take effect on Friday.
The financial sanctions bar Russian state-owned banks and their subsidiaries from getting credit in the EU through bond or equity sales, though short-term loans with a maturity below 90 days are unaffected
An arms embargo covers all future contracts for EU-Russia arms deals
The EU will not export dual-use equipment for military use in Russia
The EU will not export oil industry technology to Russia if it is intended for deep-water or Arctic drilling or shale oil projects
The new EU list now means 95 Russian individuals and 23 entities are subject to sanctions.
Almaz-Antey, a firm which makes anti-aircraft weapons, is on the list, as well as the Russian National Commercial Bank, which was taken over by the pro-Russian authorities in Crimea.
The Dobrolet airline, operating between Moscow and Crimea, is on the EU list too.