Why Turkey's presidential election matters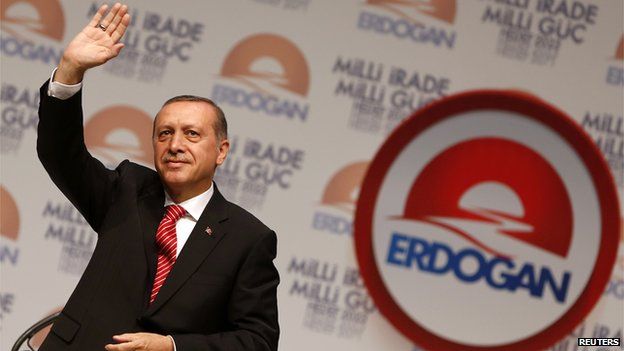 All eyes are on outgoing Turkish Prime Minister Recep Tayyip Erdogan as the country prepares for its first direct presidential election on 10 August.
Mr Erdogan, 60, and his Islamist-rooted Justice and Development Party (AKP) have established near-total political dominance since coming to power in 2003.
Critics accuse Mr Erdogan of growing authoritarianism and his bid for the presidency looks unlikely to be the end of this long reign.
Why is Mr Erdogan standing?
The formal reason for Mr Erdogan's candidacy is that he is barred from standing again as prime minister by his own party's charter.
He says that if he wins, he wants to change the constitution to turn the largely ceremonial post of president into the country's executive powerhouse.
A US-style strong presidency, he argues, would suit Turkey more than its current parliamentary system.
Ruling party officials argue the presidency will have greater clout as it will now be decided by voters rather than parliament, as was previously the case.
The president already has the power to appoint the prime minister - subject to approval by parliament - and the army chief. He can also summon parliament and call referendums on constitutional changes agreed by MPs.
Ekmeleddin Ihsanoglu, 71, is the joint candidate of the two main opposition parties in parliament, the centre-left Republican People's Party - or CHP - and the far-right Nationalist Movement Party (MHP).
He presents himself as a candidate of reconciliation who will equally defend both hijab-wearing women and disaffected middle-class liberals. Some on the CHP's left accuse him of being too conservative.
He has stressed he has no interest in expanding the presidency's powers.
The third candidate, Selahattin Demirtas, 41, is a member of the left-wing People's Democratic Party, and is a well-known politician from the Kurdish minority.
His main message is diversity and he has striven to expand his appeal to left-leaning ethnic Turkish voters. Kurdish parties usually win about 5-7% of the vote.
Despite the 2013 protests by young and liberal middle-class Turks chafing at Mr Erdogan's rule, a stream of corruption allegations and his falling-out with former Islamist allies, Mr Erdogan's overall popularity appears undimmed: his party won handsomely in March's regional elections.
Almost all opinion polls published before Thursday - after which no polls can be published - give Mr Erdogan leads between 10% and 30% over Mr Ihsanoglu in second place. Most surveys suggest Mr Erdogan could win outright in the first round.
The media have also been favourable to Mr Erdogan. The electoral authorities have accused state broadcaster TRT of failing to give candidates equal air time. Much of the private media is owned by businessmen close to the ruling party.
Is this a Putin-Medvedev scenario?
The incumbent President, Abdullah Gul, is mentioned most frequently in the Turkish media as the likely new prime minister.
Some in the press have compared this scenario to the "job swap" whereby Russia's then Prime Minister, Vladimir Putin, replaced his ally, Dmitry Medvedev, as president in 2012.
Mr Gul has, however, said he is not comfortable this arrangement being repeated in Turkey.
What would an Erdogan presidency mean?
Some fear Mr Erdogan's plan to strengthen the presidency could continue a drift towards authoritarianism.
His government's tough handling of the 2013 protests - in which nine people died - drew international condemnation. Since then, dozens of journalists have either been sacked or pushed to resign for their coverage of the unrest.
Many Turks, however, credit Mr Erdogan for Turkey's rapidly growing economic prosperity.
He is also seen has having destroyed the once all-pervasive power of the strongly secularist military, which used to make or break governments at will.
How does the election work?
The winner must get more than 50% of the vote. If no candidate reaches this mark in the first round, a run-off will be held on 24 August.
More than 2.7 million Turks living abroad have the right to vote - about 5% of the total electorate.
BBC Monitoring reports and analyses news from TV, radio, web and print media around the world. For more reports from BBC Monitoring, click here. You can follow BBC Monitoring on Twitter and Facebook.
Related Internet Links
The BBC is not responsible for the content of external sites.