Arrests in Europe amid Gaza tensions and anti-Semitism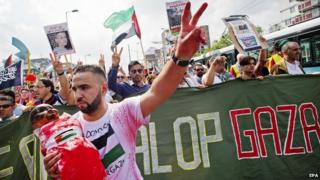 Dutch police have arrested two men suspected of chanting "Death to the Jews" during a Gaza solidarity rally.
Israel's shelling of Gaza - a response to Hamas rocket attacks - has fuelled alarm about anti-Semitism and Middle East violence spreading to Europe.
The French government is considering disbanding a radical Jewish group - the Jewish Defence League (LDJ) - on public security grounds.
German police have arrested a suspect over an arson attack on a synagogue.
The Dutch arrests came in connection with a pro-Palestinian demonstration in The Hague on 24 July, where some participants waved black flags associated with Islamist militants.
The two men held are both aged 32 and suspected of inciting racial violence.
German police say three men hurled petrol bombs at a synagogue in Wuppertal, in western Germany's industrial Ruhr region, early on Tuesday. Nobody was hurt and there was no damage. The 18-year-old arrested reportedly described himself as a Palestinian.
Germany has seen demonstrations for and against Israel since the Gaza conflict erupted - a particularly sensitive area because of Germany's Nazi-era anti-Semitism.
In France, the LDJ is suspected of involvement in clashes with pro-Palestinian activists during recent rallies.
Interior Minister Bernard Cazeneuve said the group's actions were "excessive" and the ministry is reported to be "seriously considering" disbanding it.
The LDJ may have infringed laws against discrimination and violence based on ethnicity, judicial sources said.
French Muslim leaders have called the LDJ "extremist, racist and violent".
France has one of Europe's largest Jewish communities, totalling about 500,000.