Turkish presidential vote: Polling begins overseas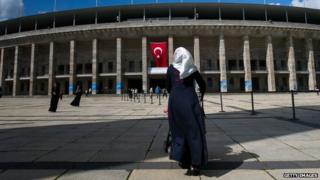 Expatriate Turks have begun casting votes to select Turkey's first directly-elected president, the first time they can vote from abroad in an election in their country of origin.
Although there are about 2.8 million expatriate Turks in 54 countries - roughly half of them in Germany - only about 250,000 have registered to vote.
Prime Minister Recep Tayyip Erdogan is considered the strongest contender.
He wants the president to have as much power as the prime minister.
Previous Turkish presidents have been selected by parliament.
More authoritarian
Mr Erdogan has pledged to push for a new constitution if he is elected president, enabling him to attach more powers to the position - which is currently a largely ceremonial role.
Most analysts expect him to triumph comfortably when elections are held in Turkey itself on 10 August.
Mr Erdogan has been prime minister since 2003 but is barred from seeking a new term. Critics say he has become more authoritarian in the midst of corruption allegations.
He accuses political foes of plotting against him. Steady economic growth has helped to secure him successive election triumphs.
His Islamist-rooted AK Party dominates parliament - a power base that has enabled him to challenge the country's secularist establishment.
The main rivals to Mr Erdogan in the vote are the former head of the Organisation for Islamic Cooperation, Ekmeleddin Ihsanoglu, and Kurdish politician Selahattin Demirtas.
Correspondents say there is strong interest in the vote in Berlin - sometimes referred to as the biggest Turkish city outside Turkey - where voters cast their polls at the historic Olympic Stadium, decorated for the occasion with a large Turkish flag.
The AK Party won about 43% of the vote in local elections in March, even though the government has been mired in successive corruption scandals and has to confront frequent anti-government protests.