Ukraine MH17: Air crash team finds human remains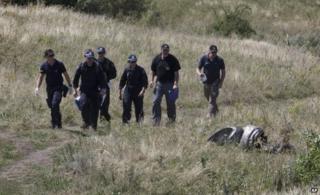 A team of 70 Dutch and Australian forensic experts has found human remains at the site of the flight MH17 crash in east Ukraine.
They made their discovery on their first full day of searching at the site, an area of some 35 sq km (13.5 sq miles) inside the conflict zone.
Local search parties found 227 of the 298 victims earlier and they were flown to the Netherlands for identification.
Presidents Obama and Putin discussed the crisis by telephone on Friday.
The US president told his Russian counterpart that while he was "deeply concerned" over his continuing support for pro-Russian separatists in Ukraine, he hoped a diplomatic solution was still possible.
"I think that we have done everything that we can to support the Ukrainian government and to deter Russia from moving further into Ukraine," President Obama said afterwards.
"But short of going to war there are going to be some constraints in terms of what we can do if President Putin and Russia are ignoring what should be their long term interests."
Both President Obama and President Putin agreed that continuing fighting in Ukraine was not in the interests of either country, the Kremlin said.
The clashes between government troops and pro-Russian separatist rebels had previously prevented the investigators reaching the area. Ten Ukrainian soldiers were killed near the crash site on Thursday.
A Malaysia Airlines Boeing 777 airliner came down on 17 July with the loss of all 298 passengers and crew, while flying from Amsterdam to Kuala Lumpur.
After Ukraine's military declared a unilateral one-day suspension of operations against the rebels in Donetsk region on Thursday, an exploratory visit was made by the forensic experts, followed by the full deployment on Friday.
It is now unclear whether Ukraine's army or separatist forces control the site, as fighting continues nearby, the BBC's Tom Burridge reports from Kharkiv.
Artillery fire
The head of the search mission, Pieter-Jaap Aalbersberg, announced that it had completed its first day of work and had recovered human remains which would be sent to the Netherlands.
He said the mission was moving to a new base in the Donetsk town of Soledar.
The investigators had travelled in 16 vehicles to the crash site, outside the village of Grabove, along with monitors from the Organization for Security and Co-operation in Europe (OSCE).
Artillery fire could be heard periodically somewhere in the distance during the work on Friday, AP news agency reports.
BBC Defence correspondent Jonathan Beale in eastern Ukraine
The fighting is getting more intense around the pro-Russian separatist stronghold of Donetsk.
It is becoming harder to leave and enter the city, but life inside continues as normally as it possibly can.
In satellite towns around Donetsk, though, it is a different story.
There you can see smoke rising across the horizon, often the aftermath of heavy bombardment by rockets and artillery.
It's a sign that Ukrainian forces are stepping up their efforts to take the rebel-held areas.
We went to Shakhtarsk, 65km (40 miles) east of Donetsk.
We watched civilians fleeing their homes. They were shell-shocked and war weary.
The town itself was littered with glass, broken bricks and torn-up trees. Few had stayed behind.
But nervous rebels were still manning checkpoints and patrolling the town. They are not giving up.
The ongoing conflict is forcing the team of international monitors, as well as Dutch and Australian experts, to take a long detour to the crash site of MH17.
Talks between a rebel delegation and officials from Ukraine, Russia and the OSCE are to resume next week in Belarus, the OSCE said in a statement.
In a separate development, Ukrainian President Petro Poroshenko has said that long-awaited parliamentary elections will take place in the autumn.
"[Then] there will be a new parliament that will start on reforms," the president said in a televised interview.
More than 1,500 people are believed to have been killed in the conflict which erupted in east Ukraine in April, after separatists declared independence from the new government in Kiev.
Russia, which annexed Ukraine's Crimea region in March, has been accused of arming the rebels and has been targeted by US and EU sanctions.