British 'angels' who braved WW1 trenches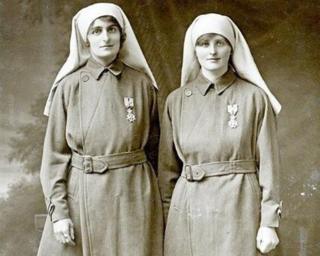 Today the small Belgian village of Pervyse is quiet, sleepy and peaceful - just as it was 100 years ago, before war ripped it apart.
In August 1914, Pervyse was right on the frontline and the farming village was attacked for four long years. World War One left it almost completely destroyed.
Nearly all the inhabitants left the village, and those too stubborn to go did not survive long. In 1914-1918 practically the only people in the village were Belgian soldiers - and two remarkable British women.
Mairi Chisholm and Elsie Knocker ran their own first aid post in Pervyse, surviving the heavy bombardment, sniper fire and gas attacks that killed so many.
The pair had met in the pre-war years through a shared, and at the time unconventional, love of motorbikes.
When war broke out in August 1914, Elsie was 31 and Mairi just 18. One month later, the two were off to Belgium to help with the war effort, leaving behind their families and friends to join a small independent ambulance corps founded by a British doctor, Hector Munro.
Pervyse lies on the frontline north of Ypres
"Elsie wanted to get away from the dreary post-Victorian life she was leading," says Flemish historian Patrick Vanleene, "and young Mairi thought Elsie could lead her to an adventurous life".
In a letter to her aunt shortly after arriving in Belgium, Mairi wrote: "Fancy […] lolling about doing nothing when there is such a tremendous lot to do here. It's too rotten to think of."
An early turning point came when the women realised how many soldiers were dying because they were not treated soon enough, as the front lines were far from the base hospitals. Elsie and Mairi decided to do something about it. They left Munro's team, broke out on their own and moved to the heart of the battle zone in Pervyse.
Here, the two women set up their first aid post in autumn 1914. Their run-down cellar house, Le Poste de Secours Anglais, as it became known, was just metres away from the Belgian frontline.
At first, they had help from former colleagues, but by the beginning of 1915, it was just Mairi and Elsie, risking their own lives to help save those of the Belgian soldiers.
The nurses sheltered wounded men in cellars
---
"One sees the most hideous sights imaginable, men with their jaws blown off, arms and legs mutilated and when one goes into the room one is horrified at the suffering… which is ghastly.
"I could not believe that I could have stood these sights."
Excerpt from Mairi's diary, 1914
---
Primitive conditions
It was not uncommon for British women to go to Belgium or France to work as nurses, but very few were allowed as close to the action as Mairi and Elsie.
"Anybody else would have left after a week," says Vanleene, "or if they were strong characters, half a year. And frankly they would have had every reason to leave".
The two women lived in treacherous conditions. They had to move twice because houses were destroyed, they had no running water, no bathroom and only basic food like tinned tomatoes and sardines.
As well as their medical work, Mairi and Elsie were a constant presence on the frontline, often handing out hot cocoa and soup to the grateful Belgian soldiers.
They were regularly mentioned in soldiers' diaries, poems and songs, and were given presents too. Before long, the women were known as the Madonnas or Angels of Pervyse.
And it wasn't just the soldiers who appreciated their work. In January 1915 Elsie and Mairi were awarded the Order of Leopold II, Knights Cross by King Albert I of Belgium, and in October 1917, the British Military Medal too.
---
"There were so many bodies - dead, dying, shockingly or slightly wounded - laid on the floor that it was difficult to walk without treading on them.
"Two small boys with a handcart took the dead to the burial-dump… When our ambulances drove in with a fresh load we would have to get down to the loathsome task of clearing the dead to make space for the living."
Elsie's 1964 memoirs
---
Wartime celebrities
As their reputation soared, so too did the publicity that surrounded the Angels of Pervyse.
"People really wanted to meet them and to see the conditions they were living in, and in many ways just to be able to say they'd met them," says biographer Diane Atkinson, who has written a book about them.
Elsie and Mairi became celebrities of their day - British visitors to the Flanders Front would go to meet them; they were lauded in the press and treated like stars on their visits back to British soil.
With no income source, the trips home were crucial to drum up support and money, and the pair became experts at doing what they had to do in order to raise funds.
"People back home weren't told the horrors of what was happening," says Atkinson. "It was packaged as 'brave women, Belgian soldiers, beating the Germans and aren't they fabulous?'" But this sanitised version of events left out the horrendous injuries and gas attacks which were a daily reality - and that was the version that Elsie and Mairi wanted the public to know.
---
"Christmas this year appeared as a British angel. She emerged in my observation post, dressed in a leather coat, with twinkling eyes and her hands filled with presents. There were small, useful gifts and also a piece of plum cake.
"The presents were bowed with a Belgian tricoloured ribbon. Thank you for the presents, thank you for this surprise, and thank you for the smile."
Christmas Day 1914 - diary entry by artillery observer Captain Robert De Wilde
---
Their work continued throughout the war years, but in 1918 both were seriously injured in a gas attack and returned to the UK for treatment. The momentum behind their work was lost and neither was in Pervyse when the Armistice came.
When villagers returned after 1918, many could not even find where their homes had previously stood. The houses that were once Mairi and Elsie's first aid posts no longer exist, replaced by new buildings.
A few cafes, small shops and a church serve the largely elderly inhabitants. There is little evidence that the surrounding flat fields were once battlegrounds. The cycle path that runs down one side of the village used to be the frontline.
Consigned to history
After the war the surviving Belgian soldiers who had so loved the Angels of Pervyse resumed their previous lives, and the British government chose another courageous nurse, Edith Cavell, as their poster girl for women's history in WW1, overshadowing Mairi and Elsie.
In addition, the British desire to get back to "normal" meant few wanted to talk about the war any more. Atkinson believes "it would have been really rather frowned upon if people had been seen to be benefiting in some way from what they'd done in the war".
Working on the frontline, Mairi and Elsie had felt important. "They enjoyed the gratitude and the way people looked up to them," says Vanleene. "They felt special and they had every right to."
After the war, the two women had very different experiences. Elsie was "almost addicted to the danger and the goodness of what she had been doing", says Atkinson, whereas Mairi had another reaction. "Elsie's life was very much located in that four-year period, but Mairi wasn't interested in keeping the story going."
So Mairi moved on, while Elsie tried to cling to her former life. Later she would write in her memoirs that she had only ever found a real sense of purpose and happiness during war. "The 'Heroine of Pervyse' the Press called me, but ten years later it was a different story. […] Pervyse stood, and stands, for all that is best and most satisfying in my life."
Elsie died on 26 April 1978 and Mairi on 22 August 1981.