Ukraine crisis: Donetsk and Luhansk 'facing siege'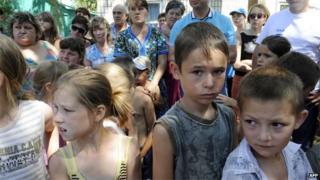 Civilians in eastern Ukraine are preparing for a siege as government forces close in on the rebel-held cities of Donetsk and Luhansk.
Residents are stockpiling food and supplies and are sleeping in basements, with reports suggesting Luhansk is virtually surrounded and without power.
Nine civilians were reported killed in Donetsk and Luhansk on Saturday.
The region has been unstable since April, when rebels in the east declared independence from Kiev.
More than 1,500 people are believed to have been killed since fighting began.
The downing of Malaysia Airlines flight MH17 in July has heightened tensions and failed to stem the fighting.
Russia, which annexed Ukraine's Crimea region in March, has been accused of arming the rebels and has been targeted by US and EU sanctions. Russia denies the accusations.
The situation is most extreme in Luhansk, where three civilians have been killed and eight wounded in the past 24 hours, reports say.
Several residential buildings, a school and a supermarket were damaged by permanent shelling, local TV reported.
Almost 50,000 households in Luhansk still have no electricity, 5,000 households have no water and more than 4,000 households have no gas, Kiev-based Kanal 5 said.
In Donetsk, a reporter for the AFP news agency saw the body of a dead woman lying in a quiet residential street after mortar explosions.
The Ukrainian government has made large gains in the east since President Petro Poroshenko was inaugurated, and has vowed to reclaim areas held by the rebels.
Crash site inspections
In the midst of the fighting, international experts are continuing their work at the site of the MH17 crash.
Dutch and Australian police are combing through the wreckage at the site, near the towns of Shakhtarsk and Torez, for as many as 80 bodies thought to remain there.
Inspectors were forced to abandon their work on Saturday as shelling continued nearby.
The US has accused the pro-Russian rebels in the area of shooting down the airliner with a Russian-made surface-to-air missile.
Russia says Ukrainian government forces are responsible.