Famous Italian statue in thong and feather boa row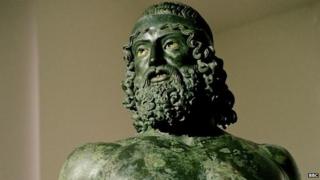 A row has broken out in Italy after a photographer dressed up a famous 2,500-year-old statue in a leopard-skin thong and pink feather boa.
The Riace Bronzes, of Greek warriors, are two of the nation's greatest archaeological treasures.
Photographer Gerald Bruneau was given permission to shoot the warriors at their museum in Reggio Calabria.
However, work was halted when he was discovered dressing the statues. The museum called the images "terrible".
A local politician has now demanded a judicial inquiry.
The images were published on Italy's Dagospia website.
The National Archaeological Museum of Reggio Calabria houses the two Greek warriors, who date from the 5th Century BC.
The BBC's Alan Johnston in Rome says the statues were discovered buried in the seabed off the Italian coast in 1972.
They had lain there for 2,000 years, are in an extremely fragile state and have only just been very delicately restored, he says, so the idea that someone has been able to kit them out in outrageous gear will raise concern about how well they are being cared for.
Archaeological department head Simonetta Bonomia said permission had been given to Bruneau because an earlier shoot with a veil carried out at the Gallery Borghese in Rome had been done tastefully.
But the museum was unaware of the photographs with the controversial attire and staff intervened to stop the artist as soon as possible.