Many Russians stranded as tour firm Labirint fails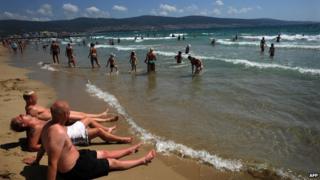 As many as 27,000 Russian tourists are stranded abroad after a Russian tour firm, Labirint, suspended operations.
A company statement (in Russian) blamed the move on a deterioration in the rouble exchange rate and the "negative political and economic situation".
There are signs that EU-US sanctions on Russia over the Ukraine crisis are hurting the wider economy, including Western investment in Russia.
A Russian tycoon says his executive jet is grounded because of US sanctions.
Billionaire businessman Gennady Timchenko - close to President Vladimir Putin - told Russia's Itar-Tass news agency (in Russian) that Gulfstream was no longer servicing his jet and the pilots were not allowed to use its navigation equipment.
He is reckoned to have a fortune of $14.4bn (£11.4bn), owning big stakes in gas and infrastructure firms. He is among dozens of Russians hit by sanctions over the Ukraine conflict.
An agency assisting Russian tourists, Turpomoshch (Tour Help), said in a statement (in Russian) it is now trying to book Russians onto return flights in various countries, including Bulgaria, Egypt and Tunisia.
Labirint's sudden failure on Saturday left some 27,000 Russian tourists without return tickets, Turpomoshch said.
Anxious Labirint customers are bombarding Turpomoshch with calls at a rate of five per minute, the agency says, adding that "our managers are working flat-out" to help them.
Another reason Labirint gave for its move was the Russian state's advice that military or security service officials should not go abroad.
Last month another Russian tour operator, Neva, also went bust.
In other sanctions-related developments:
The German government halts a contract - worth 100m euros ($134m; £80m) to the Rheinmetall firm - that would have delivered a military training camp to Russia, housing 30,000 soldiers annually
Dobrolet, a Russian budget airline, grounds its planes. A subsidiary of Aeroflot, it had been flying from Moscow to Crimea after Russia's annexation of the peninsula, but was named on an EU sanctions list last week
Russia's food hygiene service Rospotrebnadzor bans imports of "Kentucky Gentleman", a brand of American whiskey, citing traces of phthalates - organic chemicals - in the drink
The chairman of UK firm JCB, which exports tractors, diggers and other heavy equipment, says that "if sanctions restrict sales of machines and spare parts there will be obviously be a major impact on JCB, which could put hundreds of British jobs at risk".
The EU and US have blacklisted dozens of Russian individuals and firms considered to be undermining Ukrainian sovereignty. The first round of sanctions was imposed in March after Russia annexed Ukraine's Crimea peninsula. Top pro-Russian separatists in Ukraine are also blacklisted, hit by Western visa bans and asset freezes.
Mr Timchenko said he was used to flying worldwide to do business and had lived abroad for long periods in the past 25 years, but "now in effect I've stopped travelling abroad".
He was a founder of Gunvor, a global commodities trading firm, but sold his 43% stake just before he was hit by sanctions in March.
Mr Timchenko has a 23.5% stake in Novatek, Russia's second biggest gas producer, as well as controlling stakes in Volga Group and Stroytransgaz Group, which carry out major infrastructure projects.
EU-US financial sanctions are also affecting his business, he said, explaining that he no longer uses Visa or Mastercard credit cards.
"I'm left with my Swiss medical insurance card, international driver's licence and Finnish ID card, which is like a passport. Also now I've got a Chinese Union card. As soon as the sanctions came in I got myself that card... and it works brilliantly!" he said.