Ukraine conflict: High stakes in Donetsk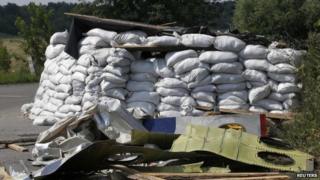 You can witness the fighting getting closer to Donetsk.
When I arrived a week ago there was a pro-Russian separatist checkpoint on a main route into the city.
The road had been blocked by earth and rebels had dug themselves into defensive positions.
A week later, we went past the same rebel defences on the way out.
By now there was glass and debris strewn across the road; there were the remnants of a Grad rocket attack with metal fragments embedded in the tarmac and the few cars that were still on the road had to navigate their way past a burnt-out tank.
Propaganda battle
Rebels from the Vostok battalion claimed to have inflicted a defeat on probing Ukrainian forces.
But it is more evidence that it is the Ukrainian army that has been making the advances in recent days.
They have reached the outskirts of the city.
The Vostok battalion is one of several rebel groups now operating in and around Donetsk. We visited their headquarters in the city.
They were in the process of training more recruits. They know they might be outnumbered, but they are not giving up the fight.
Inside there was another small army engaged in the continuing propaganda battle.
They were editing videos to post online showing their fighters in action. Both sides claim to have inflicted heavy defeats on each other.
'Clean conscience'
Alexander Khodakovsky is the commander of the Vostok Battalion.
Ukrainian intelligence says it is his voice that was recorded in a conversation after the Malaysian MH17 airliner came down with the loss of last month with the loss of 298 lives.
The men could be heard in a discussion about what to do with the plane's "black-box" data recorders.
When I met the commander he insisted his men had nothing to do with shooting down the plane.
"I have a clean conscience," he told me.
However, he does not rule out the possibility that other rebel groups may have been responsible.
"Even if you suppose that some fighters had anything to do with it, you need to understand this is a war zone," he says.
He blames the Ukrainian authorities for not diverting commercial planes away from the conflict.
Politically savvy
As for the current situation, he suggests it is a deadlock.
His language is more moderate than other rebel commanders. He insists he does not want to see eastern Ukraine become a part of Russia and that he wants peace.
He gives the impression of a man who is trying to distance himself from the hardliners.
Alexander Khodakovsky may just be more politically savvy than other rebel commanders.
Some are still talking about marching on to take the capital Kiev.
But his comments may also illustrate that the stakes are getting higher. Ukrainian forces are tightening their grip around the city.
Inside there are growing fears about the battle ahead. The streets of Donetsk are almost deserted, many shops are boarded up.
Residents complain about intimidation from pro-Russia rebels.
There are numerous reports of armed rebels confiscating cars or forcing men in the city to dig trenches at gunpoint.
Some say they are afraid to report their complaints to the authorities in the self-proclaimed republic in case they will be targeted for further reprisals.
One resident tells us that many people still support the rebels because they watch Russian TV.
But she adds: "I also know many who hope that the Ukrainian army will come soon and kick the rebels out of here.
"But these people keep quiet. Often they don't even share these hopes with their relatives."
Campaign group Human Rights Watch has identified abuses being committed by both sides.
They have highlighted the dangers of Ukrainian forces using rocket and artillery attacks near populated areas.
The group also says there is evidence that the rebels have been using civilian ambulances to transport their fighters.
In the coming days and possibly weeks there is a real danger that the situation will get worse.
If Ukrainian government forces enter the city there could be street-to-street fighting.
Rebels have already positioned themselves in civilian areas.
It is hard to see anyone winning this war without paying a heavy price.
And it is the people of Donetsk who could end up paying the heaviest price of all.