BBC rebuffs Russian state complaint over Siberia march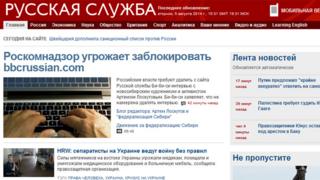 The BBC World Service has rebuffed a Russian state request to remove an interview with a Russian artist and activist who called for a march to win more autonomy for Siberia.
Artem Loskutov spoke to the BBC Russian Service on 31 July, and the website bbcrussian.com reported the interview.
A BBC spokesperson said the story was fully compliant with BBC guidelines.
In a complaint to the BBC the Russian state media watchdog Roskomnadzor warned it might block bbcrussian.com.
Russian campaigners in support of the march have had their pages blocked on Vkontakte, the most popular social network in Russia, often likened to Facebook.
Loskutov spoke in Russian on the BBC's current affairs programme BBSeva. He told the interviewer Seva Novgorodtsev about a planned "march for the federalisation of Siberia" in the city of Novosibirsk.
In a separate blog piece, Loskutov described the march as "part parody, part provocation, but also, partly, a real attempt to gain autonomy".
'Full compliance'
The BBC's statement on Tuesday said: "We have no plans to remove this interview from our website.
"Mr Loskutov is an artist and activist known for organising events which are, at first sight, parodies of political activity, but which also bring out serious issues about life in Russia. Mr Loskutov's views represent his personal position.
"The BBC aims to present all sides of a story in an impartial, unbiased way, and we have also requested an interview with a Russian government official to explain their position on the planned march. Our editorial decisions are guided by the BBC's Editorial Guidelines and the story in question is in full compliance with the requirements set out by this document."
Earlier, Roskomnadzor released a statement, quoted by Russian media, saying it had asked the BBC Russian Service editors to remove the story.
It warned that if the editors "continue to adopt an unconstructive position then the only possibility left to Roskomnadzor, to implement Federal Law 398-F3 of 28.12.2013, will be to block the BBC Russian Service website, on which the illegal information is published".
The law (in Russian) entitles the Russian authorities to block any information on the web which could threaten civil order and incite mass disturbances or "extremist actions".