East Ukraine danger increasing, warns UN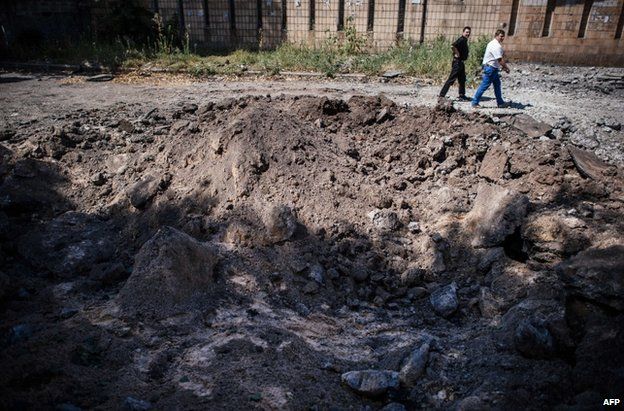 Civilians in eastern Ukraine are facing increasing hardships, with wrecked infrastructure and limited access to power and water supplies, the UN says.
UN humanitarian chief John Ging said "immediate action" was needed to halt the conflict and prevent the situation from putting more people in danger.
At a UN Security Council meeting Russia blamed Ukraine for the hardships, but the UK said it was Russia's fault.
The UN estimates that 1,367 people have been killed since April.
However, the true figure could be much higher, with the rebels saying they have lost at least 800 fighters and accusing the government of playing down its own losses.
Eighteen Ukrainian soldiers were killed and 54 injured in clashes on Tuesday, the government said.
The crisis erupted when well-armed pro-Russian gunmen took over various cities and attempted to break away from Ukraine. They have been slowly beaten back, and the fighting is now focused on the two rebel strongholds of Donetsk and Luhansk.
An air strike was carried out overnight on a suburb of Donetsk, residents and officials said, while the government denied being involved.
Nato updated its estimate of Russian military strength along Ukraine's borders to 20,000 combat-ready soldiers
Up to 180 of the Ukrainian soldiers who sought shelter inside Russia from rebel attacks on Monday were returned to Ukraine by Russia
International forensic experts continued their search of the site where Malaysian Airlines flight MH17 crashed on 17 July, apparently downed by a missile
Mr Ging told an emergency meeting of the Security Council that the lack of a political solution in Ukraine would only lead to more people being killed.
"The ongoing efforts to find a political solution to the crisis in Ukraine have borne little fruit," he said.
"Therefore insecurity and violence prevail in conflict areas resulting in a steady worsening of the humanitarian situation.
"This will continue to deteriorate for as long as violence persists."
Ukraine and Western countries have accused Russia of fuelling the rebellion with weapons and soldiers, a claim the Russian government has repeatedly denied.
Russia says casualties have occurred because the Ukrainian military shells indiscriminately.
The UN revealed on Tuesday that the number of people fleeing the war in eastern Ukraine to other parts of the country had jumped from 2,600 to 102,600 inside two months.
The figures for early June to early August coincide with a sharp increase in fighting between pro-Russian separatist rebels and security forces.
Nobody was killed in the latest reported air strike on Donetsk but two warehouse workers were injured, rescue worker Alexander Pivko told AP news agency, confirming it had been an air attack.
A warehouse, a boiler room and a car repair shop were damaged while one crater could be seen just 10m (yds) from a residential building.
"I ran with my two children to hide in the basement after the first strike," Marina Sibekina, a 30-year-old teacher, told AP.
"A plane was in the air and in about five minutes a second explosion rang out. The rebels built a base here, but we're the ones who suffer."
Ukrainian security spokesman Andriy Lysenko categorically denied Ukrainian planes had been involved: "The cities of Donetsk and Luhansk, as well as other cities and residential areas, are not being bombed by Ukrainian military aviation."
Ukrainian warplanes have been frequently used against the rebels during the fighting and have been accused of killing and injuring civilians.