Costa Concordia captain's lecture sparks outrage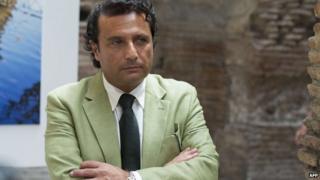 The captain of the sunken Italian cruise ship, the Costa Concordia, has sparked outrage after it emerged he delivered a lecture to university students on best emergency practices.
Italy's education minister said the decision by a Rome university professor to invite Francesco Schettino to speak at a seminar was "disconcerting".
Mr Schettino is currently on trial for manslaughter and abandoning ship when the luxury liner sank in January 2012.
Thirty-two people died in the incident.
The former captain denies that he left the luxury liner after it hit a reef near the island, before 4,229 people on board were taken off.
Panic management
The Concordia Captain gave a two-hour lecture to criminal science postgraduate students of La Sapienza university last month, Italy's La Nazione newspaper reports.
"I was called to speak because I am an expert. I had to talk about panic management," Mr Schettino was quoted by the paper as saying.
He said he had used a 3D model of the Costa Concordia cruise liner to demonstrate how emergency evacuations were carried out.
The decision to invite the former captain to speak was condemned by the university's dean, Luigi Frati, who said he was unaware it was taking place.
He called it an "inappropriate and unworthy choice" of speaker.
The professor who arranged the lecture, Vincenzo Mastronard, is currently facing a disciplinary hearing, the university said on Wednesday.
However, Mr Mastronard is quoted by Italy's La Repubblica newspaper as saying that the event was "reserved for experts" and that he would clear up any misunderstanding with the university.
The 290m-long Costa Concordia - which is longer and heavier than the Titanic - was towed in July to the Italian port of Genoa to be broken up for scrap after a two-year salvage operation.
Mr Schettino has already accepted some degree of responsibility, asking for forgiveness in a television interview as he talked of those who died.
He maintains that he managed to steer the stricken vessel closer to shore so it did not sink in deep water where hundreds might have drowned.