Mixed feelings as Kremlin curbs food imports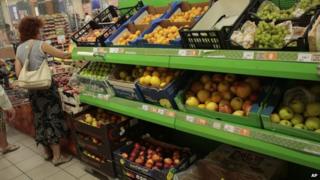 Russian state media's welcome for the Kremlin's retaliatory curbs on Western food imports is not shared by many Russian users of social media.
The main TV stations - which are controlled by or are strongly supportive of the Kremlin - argue that the ban is good news for domestic producers.
As for consumers, they should not worry that prices will rise, they said.
According to state-controlled Channel One, Russian food producers "heaved a sigh of relief" upon hearing the news.
Another good thing about the ban is that Russian food is much better, which, Channel One's correspondent said, "is something everyone knows".
"We are not losing anything, we are only gaining," one farmer said on Channel One.
These sentiments were echoed on another state TV channel, Rossiya 1. Most products imported from the West can be replaced easily, it argued.
Russians have no reason to worry about empty shelves in supermarkets, and food prices will definitely not go up, according to the channel.
Back to the Soviet Union?
The pro-government Russian press is similarly supportive. Its message: Russia has been forced to respond to Western sanctions.
"We need counter-sanctions or we do not respect ourselves," political expert Vitaliy Tretyakov tells popular tabloid Komsomolskaya Pravda.
"Russia has enough land and people, and therefore can provide itself with all it needs," he says. "That is why these sanctions will bring nothing but recovery to our rural areas."
Nationalist commentator Yegor Kholmogorov is also belligerent. "The sanctions will hurt so much that they can easily force Western countries to come to their senses and stop subordinating trade to their political anger," he argues in pro-Kremlin Izvestia daily.
But commentary in influential daily Kommersant is much less upbeat. "We are really becoming very much like the Soviet Union, where one had to run around food shops to buy Russian cheese only," writer Viktor Yerofeyev tells the paper.
"Sanctions are OK, but they must not discriminate against people. People should have a normal life, politics must not kill the quality of life."
Life without ale
Many social media users argue that it is ordinary Russians, not Western economies, who will be hardest hit.
"Putin has joined Western leaders and imposed sanctions against us as well," says one popular tweet by user Roman Romanik, which was retweeted more than over 1,400 times.
"The availability of different types of food in our shops is the greatest geopolitical catastrophe of the 20th century," popular satirical account Kermlin Russia tweets, paraphrasing President Putin's remarks about the break-up of the Soviet Union.
"I am a bit upset. I feel sorry for Russians. They love Putin sincerely, from the bottom of their hearts. Why has he done this to them?" asks Rustem Adagamov, a popular Russian blogger who lives in exile in the Czech Republic.
Others welcome the ban. A hashtag was launched, translated as "#neat sanctions", and many of those using it argue that the Russian economy and producers will only benefit from the restrictions on food imports.
The hashtag was among Russian and world top 10 Twitter trends on the early morning of 7 July.
"Looks like Putin's sanctions will destroy countries in Eastern Europe," pro-Kremlin journalist Yury Yakor tweets.
But some reactions are both pragmatic and tongue-in-cheek. "Damn, I'm not prepared to live in a country where there's no English ale. It was the last thing that reconciled me with reality," journalist Ilya Barabanov despairs.
BBC Monitoring reports and analyses news from TV, radio, web and print media around the world. For more reports from BBC Monitoring, click here. You can follow BBC Monitoring on Twitter and Facebook.