Prisoners of 'Demon' in war-torn Ukraine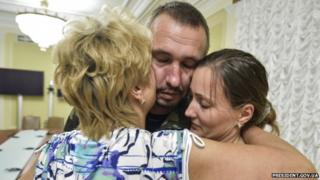 A Ukrainian army officer's wife has described how she managed to stay with him while he was a prisoner of a rebel commander nicknamed "Demon" in the war-ravaged city of Horlivka.
Capt Roman Zasukha was captured by the pro-Russian separatists in Horlivka, about 35km (22 miles) north-east of Donetsk, and kept there for more than a month.
His wife Oksana joined him and stayed there until her husband was released at the end of July.
Before serving in the 72nd Guards Mechanised Brigade, Roman worked as a history teacher.
He only had basic military training - as all university students did in Soviet times - before joining the Ukrainian army in March as a volunteer.
Soon he found himself fighting separatists in eastern Ukraine.
In late June he was due to have 10 days' leave back home. Capt Zasukha and five other officers - all unarmed - were heading home at night when they got lost and stumbled upon a rebel checkpoint, manned by the so-called "Russian Orthodox Army".
Chilling TV film
Oksana found out about his capture after seeing him in video footage on Russian TV. He had been beaten up and was being interrogated. She knew that she had to go to Horlivka and save him.
Roman's first days in captivity did not bode well. One of his interrogators shot him in the foot. Luckily the bullet missed the bone and tendons.
According to Russian TV reports, he was wounded while trying to escape.
"When I reached Dnipropetrovsk region, Roman called me and said he had been taken hostage in Horlivka," Oksana told the BBC.
"He was trying to persuade me not to travel there. I let him know I was close to the place and would not go back without him."
'Treated normally'
Roman and his comrades had been transferred to the militants commanded by Igor Bezler, nicknamed "Bes" (demon). Oksana had to find a way to contact him when she reached the Donetsk region.
"On the second day, in the morning, Igor Nikolayevich [Bezler] personally gave me a call and promised all would be all right with me if I came. Soon Bezler's rebels met me at Donetsk railway station and drove me to my husband. I was treated normally, even with respect. And everyone was shocked by my decision [to go there]."
The hostages were kept in a police building. Roman and Oksana ended up staying in one of the rooms with iron bars on the windows, half blocked up by sandbags with small gun slits. All they had was a table in the corner and a mattress with bed linen under one of the windows.
"Bezler stressed we were his guests, not his hostages," Oksana recalled.
"Apart from me there were also two mothers of captives from the 25th Brigade. We worked together in the kitchen, helping the cooks hired by the separatists. I worked shifts, from five in the evening until midnight, sometimes longer.
"I did some shopping a few times and straight away went back to my husband. I was told I could leave any time. But I stayed there until the end, when fighting was going on all around us.
"We felt Horlivka was being surrounded. Later there was shelling with Grad rockets. We were really scared."
Execution threat
Capt Zasukha said: "There were some officers among us, that is why the rebels handed us over to Bezler.
"He wanted to have more 'important prisoners' so that he could later exchange them. He chose his nickname Demon himself. His authority among all the militants was unchallenged, and his orders were never contested.
"Bezler said that we should join him and fight against the Ukrainian Army. I was offered the position of battalion commander, and his bodyguards were very impressed. They found it a great display of his trust in me."
But when 14 men in Bezler's group were killed "they said it was our fault", Capt Zasukha continued.
"My comrades were taken to the basement to be shot. But apparently God saved them - they were not shot."
Continuing his story, he said the prisoners included "a Swedish guy who had been detained at a checkpoint - he had a map like those sold at petrol stations, hardly a military one, but he was accused of being a spotter".
"We were exchanged by a rebel commander nicknamed 'Botsman' (Bosun). By that time Bezler had been absent for four days. Bezler had said that he was a lieutenant colonel and was leaving for Moscow to get a new rank. He said he had been promoted to major general. His subordinates had great trust in him. He wore a badge on his sleeve saying 'Russians do not betray their own'."