Turkey's 'Teflon Tayyip' Erdogan plans his next move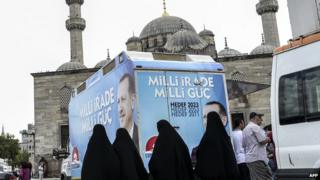 In Turkey all eyes are on outgoing Prime Minister Recep Tayyip Erdogan, who is bidding to become president in Sunday's election. Is Mr Erdogan set to become as omnipotent as Russia's Vladimir Putin?
The last time I stood in Istanbul's majestic Taksim Square was the evening of 11 June last year.
I had watched all afternoon as tens of thousands of protesters meandered through - stopping for a "cay" in a tulip-shaped glass teacup - and an exquisitely barbequed fish kebab from one of the many stalls which had sprung up out of nowhere since these protests had begun the week before.
They were here because the week before the Turkish state had tear-gassed a makeshift camp of peaceful, eco-friendly, idealistic hippy student types in Gezi Park next door.
They'd been protesting against the chopping down of some of the last trees in central Istanbul to make way for a five-star redevelopment way out of the reach of most Istanbulians.
The development plan - and the government's reaction to peaceful protest - had stirred middle-aged, urban and secular residents of this city out of their slumber and into Taksim Square in solidarity with the young.
They were also demonstrating against what they saw as the increasingly hectoring and moralistic religious style of the Prime Minister, Recep Tayyip Erdogan.
Their protest was met by water-cannon and tear-gas as the police turned on everyone present - young and old - without warning.
Many here insist that what happened that night, and on several others after, was a scandal by European standards of liberal democracy and should have foretold the end of Erdogan's career at home and abroad.
But no, Teflon Tayyip, as he is known in more irreverent Turkish circles, is still a force to be reckoned with and on Sunday he will make a bid to be the democratically elected president of Turkey.
It is widely expected that he'll succeed in taking his prime ministerial powers with him from parliament to the presidential palace - Putin-style.
Not even the recent corruption allegations made by his former political allies, his habit of locking up anyone who disagrees with him, nor the government's inadequate reaction to the Soma mining disaster in May, in which 301 miners died, have seriously dented his chances.
Likewise abroad, diplomats roll their eyes in frustration at any mention of his name.
But any inclination of politicians to publically criticise Teflon Tayyip is quashed when their advisers point out Turkey's crucial diplomatic role in the region.
Not just in dealing with Syrian refugees but also in coping with the jihadists of the Islamic State in northern Iraq.
This means Mr Erdogan is not overly troubled by what his friends in London, Brussels or Washington say about him on or off the record.
What he is intent on now is remaining in power until the centenary of the Turkish republic in 2023.
And he will probably succeed because, while Turkey is not a liberal democracy, it is still a democracy, and enough people will vote for him.
Many Turks like the new roads, metro lines, high-speed rail links and shiny hotels which have sprung up across Istanbul, and the whole of Turkey, providing a boost for the economy.
The AKP has also improved social welfare and health care provision for ordinary working class Turks.
The harsh reality is that a significant proportion of people in Turkey don't give two hoots about the liberal secular elite and their over-educated, idealistic, eco-friendly offspring.
"They had their turn and now it's ours," said a man playing backgammon in a tea shop on a narrow sloping street in the less trendy Tarlabasi district on the other side of Taksim Square.
And so Mr Erdogan can continue to accumulate power and influence because enough of the electorate don't care about the AKP's cronyism, control of the media, alleged corruption or even the suggestion by the deputy prime minister that women shouldn't laugh in public.
It seems those who oppose the AKP know they are beaten - for now.
It is such a foregone conclusion that the prime minister will now become the president that protests - and the prospect of another tear-gassing - are just not worth the bother.
Hardcore activists remain, of course, but most Turks, even those bitterly opposed to Mr Erdogan, would rather stay at home and watch the telly with their feet up.
And perhaps you can't blame them - it's not pleasant being tear-gassed after all.
How to listen to From Our Own Correspondent:
BBC Radio 4: Saturdays at 11:30
Listen online or download the podcast.
BBC World Service: Short editions Monday-Friday - see World Service programme schedule.