Ukraine crisis: Kiev dismantles last protest barriers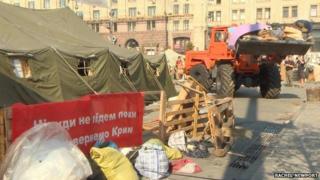 The mayor of Kiev has taken the lead in work to dismantle the final barriers and tents on the Ukrainian capital's main street, nine months after pro-EU demonstrators took to the streets.
Vitali Klitschko, an ex-boxing champion who was active in the protests during the winter, turned out with dozens of volunteers and council workers.
He told reporters that Kreschatik Street had to be re-opened to traffic.
Fighting in the east left 13 soldiers dead on Friday, the government says.
The new government is battling an insurrection by pro-Russian separatist rebels in a conflict that is believed to have cost at least 1,500 lives since April.
The UK and US governments have warned Russia not to use humanitarian assistance as a pretext for sending troops into the east.
Any such intervention would be "completely unacceptable and "viewed as an invasion of Ukraine", said the US ambassador to the UN, Samantha Power.
'Working together'
On Thursday, protesters had clashed with security forces in Kiev in scenes reminiscent of the unrest which eventually brought down Ukraine's pro-Russian President, Viktor Yanukovych, in February.
Scuffles broke out from time to time with the protesters on Saturday. At one point, a man sought to defend a burning barricade with a handgun but was arrested, video journalist Rachael Newport said in a tweet.
Council workers dismantled the barricade between Independence Square (popularly known as the Maidan) Europe Square on Saturday.
About 100 council workers and volunteers also began clearing away remains of tents near the barricade and loading waste into a lorry, Ukrainian newspaper Segodnya reports.
After talks on Saturday morning, Mr Klitschko was quoted as saying by Interfax news agency: "We need to open Kreschatik St in the first place. In the second, to restore order so that there are no explosions, no shots and no burning tyres on the city's main street. We understand that we can do that only together."
"There should be no tents or barricades on Kreschatik St," he added. "If necessary, the tents can go alongside."
The latest military death toll was announced by National Security and Defense Council spokesman Andriy Lysenko.
A civilian was killed in the eastern rebel stronghold of Donetsk on Saturday when a shell hit a street in the city's Kirovskyy district, the city's official authorities reported. Shells also hit the Petrovskyy district, they added.
International journalists in the city heard powerful explosions around 06:00 (03:00 GMT) and later in the morning.