French workers in court over gold treasure theft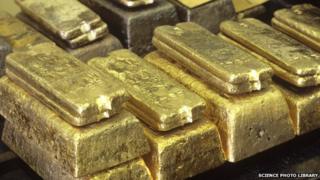 Three French workers are to appear in court on charges of stealing gold worth 900,000 euros ($1.2m; £720,000) from a property they worked on, a local French newspaper reports.
They are said to have been levelling land at a house in Normandy for several days when they discovered the 16 gold bars and 600 US $20-gold coins.
The treasure, which was found in glass jars, may have been hidden on the property during World War Two.
A coin collector has also been charged.
Rather than alert the owners of the house to their discovery, the workers, aged 20, 33 and 40, decided to steal the gold and sell it to a local coin collector, it is alleged.
But tax officials were alerted when one of the workers deposited two high-value cheques in his bank account.
When investigators caught up with them, they confessed to their crime, according to the report in regional daily Paris Normandie (in French).
The three are soon to appear at court in Evreux, north-west of Paris.
The collector will also appear in court, charged with handling stolen goods, which he denies.
Each gold bar weighs a kilogramme (2.2lb), while the 600 gold coins, dating from 1924 to 1927, weigh 33g (1.2oz) each, the newspaper said.
According to local police, the three workers "had fun" with their new-found fortune, buying cars or motorcycles, but also investing in life insurance or in their homes.
The house owners, who wish to remain anonymous, live in a small village in the Eure department in north-western France and had asked for their details and that of the crime, which happened some time ago, not to be revealed.
"You know, nobody knows about this story, even my children do not know... Since the police called me to tell me what happened, I have found it hard to sleep," the owner is quoted as saying by the newspaper.
She is also reported as having told the workers jokingly as they started the work: "If you find any treasure, be sure to tell me!"