Former Anglo Irish Bank directors face fraud charges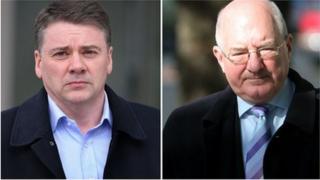 Two directors of the former Anglo Irish Bank are to stand trial for alleged fraud over an 8m euros (£6.4m) loan arranged for one of them.
Pat Whelan, 54, and Willie McAteer, 63, appeared before Dublin District Court where they were remanded on bail after being charged under the Companies Act.
The former bankers are charged with arranging a loan for Mr McAteer secured against shares he held in Anglo.
Anglo had to be bailed out by the Irish government, at major cost to taxpayers.
The charge stated that the money was to pay off a loan Mr McAteer owed to Bank of Ireland.
It also said that the loan provided a gain to McAteer and a loss to Anglo.
Both men were directors of Anglo when it was bailed out by the Irish government.
Mr McAteer, whose address was given as Greenrath, Tipperary, was a former head of finance and risk with Anglo, while Whelan, who lives on the Coast Road, Malahide, Dublin, was a former head of lending.
Police said officers from the fraud squad arrested the men in Dublin as part of ongoing investigations into financial irregularities at Anglo.
Anglo Irish Bank was nationalised and rebranded the Irish Bank Resolution Corporation (IBRC) following a crippling bailout that cost the Irish state 30bn euro (£24.6bn). It was liquidated in 2013.