Azerbaijan activists jailed amid crackdown fears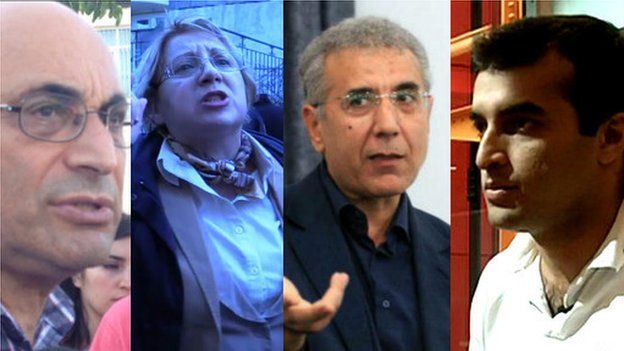 A court in Azerbaijan has upheld the jailing of top human rights lawyer Intigam Aliyev, who faces pre-trial detention for at least three months.
He was arrested on charges including illegal commercial activity, tax evasion and abuse of power.
Similar charges have been brought against other prominent activists in the oil-rich country in recent weeks.
The developments have prompted concerns about an intensified crackdown on government critics.
The Azerbaijani government rejects the allegations, arguing that the activists are heading non-governmental organisations (NGOs) that fail to observe the laws.
Since 30 July, four human rights activists known for their work with international organisations have been detained:
Leyla Yunus
Her husband, historian Arif Yunus
NGO head Rasul Jafarov
Lawyer Intigam Aliyev
Political analyst Azer Gasimli believes that the main reason these figures were all arrested in such a short space of time was a comprehensive report they were involved with on political prisoners, which was leaked last week.
"The authorities clearly didn't want such a list to be published, and decided to persecute and eventually arrest them," he told the BBC.
Meanwhile Giorgi Gogia of Human Rights Watch speculates that the arrests may be related to the fact that the capital Baku is due to host the first European Games in less than a year.
"It is much easier to silence critics now, rather than wait and do it on the eve of the mega event," he says.
But a ruling New Azerbaijan Party official, MP Aydin Mirzazadeh, says that "everyone is equal before the law" and that the activists are being prosecuted for illegal activity rather than political beliefs.
"You should ask them why they don't follow the law. Being part of a particular political circle... does not mean they are given special privileges," he told the BBC.
Another prominent NGO leader, Emin Huseynov, has been missing for almost a week since the office of his Institute for Reporters' Freedom and Safety (IRFS) was searched and eventually sealed off.
Neither the authorities nor fellow activists appear to know the whereabouts of him or his brother Mehman, an internationally published photojournalist.
In recent years, Azerbaijan has been criticised by international organisations for failing to comply with international human rights standards and for arresting youth activists.
Ilham Aliyev was elected for a third term as president in October, in a vote that the opposition rejected as fraudulent and undemocratic. Azerbaijan said the vote was fair.
Related Internet Links
The BBC is not responsible for the content of external sites.