Kurdish women in Turkey move away from independence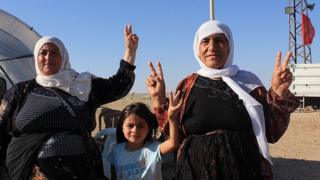 Iraq's Kurds are battling an invasion from the militant group Islamic State (IS). Together with the Kurds of Iran, Syria and Turkey, they make up the world's biggest nation without a state.
But while Kurds in northern Iraq are planning a referendum that may create an independent state, Kurdish rebels in Turkey are holding peace talks.
Despite decades of repression, the relative stability has enabled women, in particular, to challenge restrictions on Kurdish rights and the region's patriarchal society.
Rezan Zugurli, 25, is the youngest mayor in Turkey's history. And, in a country where women make up only a tiny minority in parliament, she is among a group of Kurdish women emerging at the forefront of the Kurdish political movement in Turkey.
"I was born into a political family. Being raised in the glow of Kurdish political struggle makes you a responsible person from an early age," she says.
She was given a Kurdish name when the practice was banned in Turkey. Her name, Rezan, means "the one who knows the way" in Kurdish.
She is also linked to the wider political history of the Kurdish political and armed struggle in Turkey.
Every day, as she commutes to her work in Lice in eastern Turkey, she passes by an unassuming rundown single-storey house a short distance from the main road.
This was where 23 young men and women gathered together in 1978 to hold the founding congress of what became known as the PKK - the Kurdistan Workers' Party.
The house belongs to her family.
The rise of Kurdish women is in stark contrast to the patriarchal social reality in Turkey, where only a quarter of girls are schooled beyond primary school. And their emerging role is even more stark in the rising religious and social conservatism of the wider Middle East.
Two years after the PKK meeting in her family's house, a military coup swept across Turkey prompting the arrest of tens of thousands of people and harsher times for Turkey's Kurds.
Several of those at the meeting were arrested and put in the notorious Diyarbakir Prison on charges of separatism and armed opposition to the state.
Among the inmates was senior Kurdish politician Gultan Kisanak.
"I was imprisoned in Diyarbakir military jail from 1980 to 1982," she tells me. "We were forced to deny that we are Kurds. When we refused, we were tortured. I was tortured heavily physically but the worst kind of torture was being incarcerated for months in the kennel of the prison administrator's dog."
Thirty-two years later, she returned to Diyarbakir as its mayor, now occupying a vast office in a dominating city hall.
A member of the pro-Kurdish DBP party, in the past she firmly believed in the need for an independent Kurdish state, like most of her comrades,
She now thinks achieving independence as a separate state is irrelevant: "We don't need to wait, we are establishing the society we want from today."
Some 65km (40 miles) away, in a largely conservative district called Kocakoy, another DBP co-mayor, Berivan Elif Kilic, 33, is also fighting to change the perceptions of society towards women.
After years of abuse from her husband, she became the first woman in her village to divorce and the first woman to work in the local authority.
"Before me, you could hardly see any women in the town hall or any other official building, let alone becoming the co-mayor. I think even the mere fact that I occupy this office is empowering other women here," she says.
After her divorce, she decided to enter politics to help other women.
"The Turkish state resorted to violent oppression and attempted to assimilate Kurds by denying their existence," she says. "Likewise, my husband, treated me like a slave, denied my existence and my personality."
But now she sees no reason for a Kurdish divorce from Turkey. The government in Ankara has begun negotiations with the PKK to seek a political solution to the Kurdish question.
But that does not mean that violence has left the region. There is still a heavy presence of Turkish military outposts and checkpoints.
Kisanak, Kilic and Zugurli are among the dozens of women who have taken control of towns across the Kurdish region of Turkey as mayors and co-mayors.
But not all Kurdish women are looking to town halls for political change. An unknown number of armed PKK fighters, among them many women, are still roaming the inaccessible mountains of eastern Turkey.
One group of fighters in their baggy khaki uniforms agreed to give the BBC their own assessment of the peace process, in a rare interview.
When asked why they had not followed the example of the Kurdish women mayors, one female fighter, her AK-47 draped over her shoulder, argued that their presence would guarantee the improvement of rights for Kurds as well as women.
"We want peace, and want to achieve the rights of the Kurds. But we aren't going to wait of the state to bring peace. We are ready to fight if peaceful efforts do not work."