Hungary PM Orban condemns EU sanctions on Russia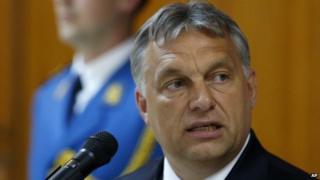 Hungary's conservative Prime Minister Viktor Orban says the EU is harming itself by imposing sanctions on Russia, describing the measures as "shooting oneself in the foot".
He was speaking after his Slovak counterpart, Robert Fico, had also criticised the EU sanctions.
Russia is Hungary's main trading partner outside the EU. Both Hungary and Slovakia depend on Russian gas.
The EU says Russia must stop supporting armed separatists in Ukraine.
Speaking on Hungary's Kossuth Radio, Mr Orban said "the sanctions policy pursued by the West... causes more harm to us than to Russia.
"In politics, this is called shooting oneself in the foot."
EU sanctions are now restricting Russian state access to Western loans, and blocking exports of defence-related equipment to Russia. EU exports of oil industry technology to Russia are also banned, but not gas-related equipment.
The EU, US and several other Western countries have also blacklisted dozens of senior Russian officials - many of them close to President Vladimir Putin - and firms accused of helping the pro-Russian separatists in eastern Ukraine.
Russia retaliated by banning a wide range of imported Western food.
Call for sanctions review
Mr Orban said it was not just European farmers who would need compensation from the EU for lost exports to Russia. "The entire sanctions policy should be reconsidered," he said.
In January Russia signed a major deal to provide Hungary with two new reactors at a nuclear plant generating some 40% of the country's electricity.
Both Hungary and Slovakia share a border with Ukraine. For decades all three countries were in the Soviet bloc, their former communist leaders allied to Moscow.
Mr Orban previously clashed with EU partners over his constitutional changes in Hungary, which critics said undermined civil liberties.
Mr Fico called the EU sanctions against Russia a "meaningless" gesture on Thursday.
"Why should we jeopardise the EU economy that begins to grow?" he told a news conference.
"If there is a crisis situation, it should be solved by other means than meaningless sanctions."