Ukraine crisis: Russia says deal reached on aid convoy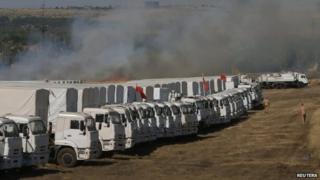 Russia's foreign minister says full agreement has been reached on the delivery of Russian humanitarian aid to eastern Ukraine after talks in Berlin.
But Sergei Lavrov said no deal had been reached on achieving a ceasefire.
He was speaking after talks with the foreign ministers of Ukraine, Germany and France on Sunday.
A huge Russian aid convoy is parked near the border, awaiting inspection. The Red Cross wants security guarantees before the lorries can enter Ukraine.
Almost 270 lorries are outside the Russian town of Kamensk-Shakhtinsky, near a border post held by pro-Russian rebels.
Western leaders have voiced concern that the convoy could be used as a cover for supplying military equipment to the separatists.
More than 2,000 civilians and combatants have been killed since mid-April, when Ukraine's government sent troops to put down an uprising by the rebels in the Donetsk and Luhansk regions.
"All questions have been resolved... regarding the humanitarian issue," Mr Lavrov told a news conference.
But he added that "we are not able to report on positive results on reaching a ceasefire and on the political process".
Ukraine's military has intensified its operation to expel rebels from two key eastern strongholds in recent weeks.
German Foreign Minister Frank-Walter Steinmeier said "the aim remains to bring about a ceasefire in Ukraine and to prevent future victims". He said "it was a difficult discussion (in Berlin) but I believe and I hope that we made progress on some points".
On Sunday Ukraine said its forces had advanced into the rebel-held city of Luhansk for the first time in months.
The national flag was raised over a police station which had for months been under rebel control, Ukrainian Security Council spokesman Andriy Lysenko said.