Norway's Statoil partners with Rosneft despite Russia sanctions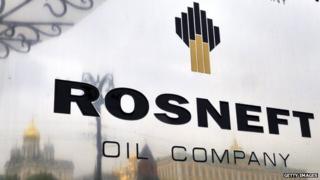 Russian state energy giant Rosneft has partnered with Norway's Statoil to search for oil in the Arctic, despite Western sanctions against Moscow.
The Kremlin-controlled firm said the two companies had "started exploration operations" in the Norwegian section of the Barents Sea.
Norway has joined Brussels in enforcing tough measures against Russia over its alleged backing of rebels in Ukraine.
Rosneft and its head Igor Sechin have been targeted in the sanctions.
This has restricted the company's access to international funding, forcing it last week to publicly ask the Kremlin for a $42bn (£25.2bn) loan.
British oil company BP, which owns almost 20% of Rosneft, said it would not sever ties with the Russian firm and earlier this month, Rosneft also announced a joint exploration off the northern coast of Siberia with US oil major ExxonMobil.
As part of the sanctions, the European Union has banned equipment and technology exports for new projects in deep water, Arctic or shale oil for one year.
Moscow has retaliated by imposing a "full embargo" on food imports from the EU.
In a statement to announce the deal with Statoil on Monday, Rosneft said that "the start of these exploration operations marks an important milestone in developing the cooperation between Rosneft and Statoil".