Turkish police arrested over Erdogan spying charges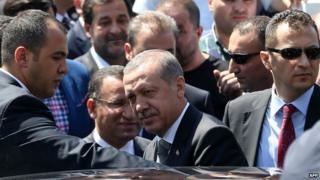 Twenty-five Turkish police officers have been arrested on suspicion of spying and wire-tapping.
The allegations of illegal wire-tapping were brought against police taking part in an investigation into government corruption, which allegedly involved PM Recep Tayyip Erdogan's inner circle.
At least 67 police officers were detained in July as part of the crackdown.
Tuesday's raids took place across 13 provinces, according to state media.
The investigation into alleged high-level corruption emerged last December.
Three ministers' sons were detained and four ministers left their jobs following the inquiry.
Recordings emerged in February purporting to be of a conversation in which Mr Erdogan asked his son, Bilal, to dispose of millions of euros.
Mr Erdogan dismissed the recordings as being "fabricated".
The Turkish government believes that the police officers are associated with the Hizmet movement, led by US-based Muslim cleric Fetullah Gulen.
The prime minister condemned the police corruption investigation as a "dirty plot" by Gulen supporters to overthrow him.