Food sanctions hit Russian shoppers' pockets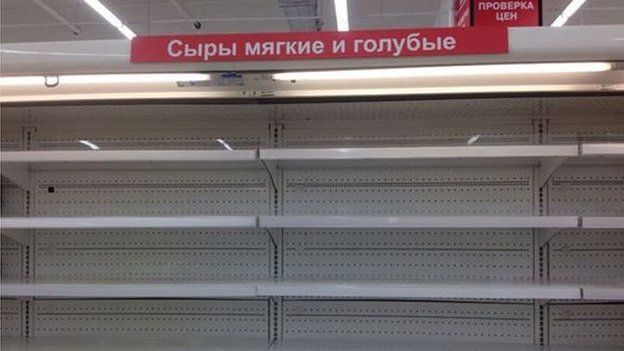 Russia's embargo on imported Western food is hitting its own people, as food prices in Moscow shops have jumped by up to 6% in just a week.
Moscow officials say frozen fish prices in the capital's major supermarkets have risen by 6%, milk by 5.3% and an average cheese costs 4.4% more than it did before the 7 August ban took effect.
Russia has banned imports of those basic foods, as well as meat and many other products, from Western countries, Australia and Japan. It is retaliation for the West's sanctions on Russia over the revolt by pro-Russian separatists in Ukraine.
And it is not just Moscow. On the island of Sakhalin, in Russia's far east, officials say the price of chicken thighs has soared 60%. Before the sanctions these were among the cheapest and most popular meat products in Russia.
In the neighbouring Primorye region fish is now reportedly 40% more expensive than just a few weeks ago.
On Russian social networks there are already plenty of pictures showing empty shelves in Moscow supermarkets, where foreign varieties of cheese or yoghurt used to be abundant.
That is not typical of most Moscow shops - the authorities say stocks imported before the ban are large enough to last for a month or more.
By that time, according to the authorities, European goods will have been replaced by supplies from Brazil, Argentina, Turkey or Egypt.
But some experts say those new supplies will not be enough to prevent further price rises.
"The Brazilian meat price for September is already 20 to 30% higher than it was in August. Don't set your hopes on Brazil, this is just the beginning of a general price rise," Sergei Yushin, head of Russia's Meat Suppliers' Association, told the business daily Vedomosti.
Polls show that the vast majority of Russians approve of the sanctions against Western food. They have been told by government officials and state-controlled TV that the embargo will not affect prices, and that it will actually allow Russia's own agriculture to flourish. And that message is being believed.
The Russian authorities have already promised to monitor food prices closely and punish anyone who tries to profit from the situation illegally. A Soviet-era word - "spekulyanty" - is being used again. It means black market speculators.
Smuggled Western goods were sold at inflated prices in the Soviet Union, where many basic foods and other goods were in short supply.
Some liberal economists in Russia warn that if the state tries to regulate food prices again then the country could face real shortages reminiscent of Soviet times.
Food prices in Moscow are now about the same or even a bit higher than in London.
And contrary to popular belief, the capital is not the most expensive region in Russia. In some parts of Siberia and Russia's far east, where average incomes are much lower than in Moscow, the prices are even higher.
Some food items, notably pork from Ukraine and the EU and Polish apples, were banned even before 7 August.
As a result, pork prices have risen some 20%. These days you can hardly find any pork cheaper than seven euros (£5.6; $9) per kilogram in supermarket chains like Perekryostok, as familiar to Russians as Tesco is to Britons.
"If supply is cut sharply, and demand remains more or less the same (people always want to eat), prices will rise," wrote Russian liberal economist Igor Nikolayev in his blog.
Many analysts expect Russia's dairy market to deteriorate because of the sanctions.
"We have fundamental problems," agriculture specialist Yelena Tyurina told the BBC. "There is a shortage of milk as a raw material. The gap is filled by milk powder, but that is supplied by EU countries, the Baltic states in particular."
The Russian ban covers most food imported from the West, with some exceptions, notably alcoholic drinks, baby food, pet food, coffee and olive oil.
Sanctions imposed by the EU, US and some other Western countries are targeting top Russian officials and key economic sectors, such as energy and finance. First introduced after Russia's annexation of Crimea in March, the sanctions were tightened after Western governments accused the Kremlin of helping separatists in eastern Ukraine.