Four rare white lion cubs born at circus in Germany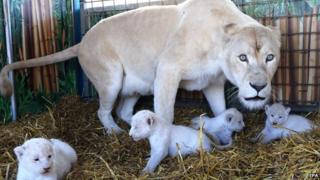 Four rare white lion cubs - three males and one female - have been born at a circus in eastern Germany.
The cubs are healthy, eating well and playing in the straw at Munich-based Circus Krone, which is currently on tour in Magdeburg.
They are not albinos. Their mother Princess (aged seven) and father King Tonga (11) carry a gene that causes the white fur.
South African conservationists have reintroduced white lions to the wild.
The rare lions' only natural range is the greater Timbavati bush region in South Africa, the conservation group Global White Lion Protection Trust (WLT) says on its website.
Several hundred white lions are in zoos and circuses worldwide, and the only ones known in the wild are a few prides in South Africa.
The circus cubs in Germany were born on Wednesday night.
In 2012 six cubs were born to Princess and King Tonga at Circus Krone.
And in April this year King Tonga fathered another cub by a different white lioness who is called Diamond.
A spokeswoman for the circus, Susanne Matzenau, told the BBC that the cubs would not go on show in the circus for at least four years. First they would spend a year with their mother, then mix with other lions and undergo training, she said.
The circus's lions are trained by Martin Lacey Junior, an award-winning British lion-tamer.
"Once a lion gets a name it goes to the trainer for its education," Ms Matzenau said.
The cubs will be named in four to five weeks' time, she said. The lion-tamer "wants to observe them first and see their character".
The circus received King Tonga as a gift from a Saudi prince. The lion has four lionesses in his pride - two white ones and two gold-coloured. "He's fulfilling his duty very well as a husband," Ms Matzenau said.