'Cannibal' trial: German policeman in court over killing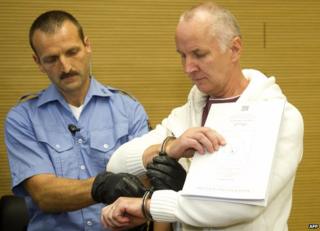 A German police officer has gone on trial in eastern Germany accused of murdering a businessman whom he met on a website for cannibalism fetishists.
Prosecutors say Detlev Guenzel, 56, strangled and dismembered the 59-year-old last November at a small bed-and-breakfast run by Mr Guenzel in the Erz mountains in eastern Germany.
There is no evidence that Mr Guenzel ate any part of the victim.
His defence lawyer told the Dresden court that the victim died willingly.
The prosecution says Mr Guenzel filmed himself cutting up the body with an electric saw. Police later found body parts buried in the garden of Mr Guenzel's bed-and-breakfast in Reichenau.
"He killed and dismembered him to get sexual stimulation and then later to get sexual stimulation by watching the video he made," AFP news agency quotes chief prosecutor Andreas Feron as saying.
Mr Guenzel could face 15 years in prison if convicted of murder.
Chilling echoes
The dead man lived in Hanover. He had chatted with Mr Guenzel at length on the internet, investigators say.
On the fetishists' website there was an offer to "take the experience beyond fantasy". The victim clicked the tick-box and set himself on the path to his death, it is alleged.
Mr Guenzel has retracted a confession he made when he was arrested.
He smiled for photographers when he entered the court wearing neat grey trousers and a white hooded jacket, AFP reports.
In court, he outlined his life story while not mentioning what happened on the night of the death.
The German news website MDR says the trial will continue on 1 September and a total of 15 days in court are planned for the case, with 20 witnesses invited to give testimony.
The case has echoes of the 2001 murder of Bernd Juergen Brandes by Armin Meiwes in Rotenburg in western Germany.
Meiwes is serving a life sentence after killing and eating parts of his victim, who agreed to his death.