Albert Reynolds: Former Irish prime minister's body lies in repose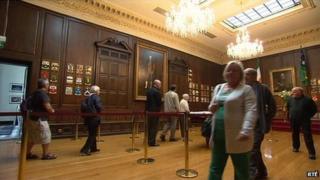 The body of the former Irish prime minister Albert Reynolds is lying in repose in Dublin ahead of his funeral on Monday.
Mr Reynolds, who played a key role in advancing the Northern Ireland peace process, including the 1994 IRA ceasefire, died on Thursday, aged 81.
He served as taoiseach (prime minister) for just under three years from February 1992 to December 1994.
The public have been filing past his coffin in Dublin's Mansion House.
His remains will remain in the Oak Room before removal to the Church of the Sacred Heart in Donnybrook later on Saturday.
Mourners signed books of condolence in memory of Mr Reynolds at a number of locations in the Republic of Ireland on Friday.
The Irish flag flew at half mast over Government buildings.
There will be a State funeral on Monday.
A service will be at the Sacred Heart Church, Donnybrook, Dublin, at 12:00 BST, followed by the burial in Shanganagh Cemetery in Shankill, Co Dublin.
'Greatest achievement'
The Fianna Fáil politician, who was born in Rooskey in County Roscommon, led the party in two coalition governments.
On a biography on its website, Fianna Fáil said of Mr Reynolds: "Without a doubt his greatest achievement was in Northern Ireland and Anglo-Irish relations, signing the Downing Street Declaration in 1993.
"It was Reynolds' determination that gave impetus to the peace process and the establishment of an IRA ceasefire in 1994, followed shortly afterwards by a loyalist ceasefire.
Mr Reynolds became a member of Dáil Éireann (Irish Parliament) at the 1977 general election, when he was elected for the constituency of Longford/Westmeath.
He was minister for industry and commerce in 1987-88 and minister for finance, 1988-91.
Mr Reynolds was removed from the cabinet for challenging the leadership of his predecessor Charles Haughey in 1991.
However, he assumed the mantle of leadership shortly afterwards in a continuation of the coalition government with the Progressive Democrats.
At the beginning of 1993, Mr Reynolds was returned to office in coalition with the Labour Party.
Mr Reynolds resigned as leader of Fianna Fáil and taoiseach later in 1994, after his coalition partners in the Labour Party pulled out of government because of a controversy that involved the extradition of paedophile priest Father Brendan Smyth.
Mr Reynolds had appointed Attorney General Harry Whelehan to the post of president of the High Court. Mr Whelehan had been heavily criticised over his handling of the extradition of Fr Smyth to Northern Ireland.