Irish abortion case review to start immediately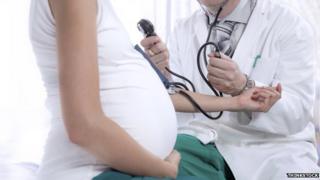 Irish health authorities have said that an inquiry team examining the care of a woman who gave birth by Caesarean section, after being denied an abortion, will begin work immediately.
Last week, the woman, a foreign national, said the pregnancy was the result of rape and that she first requested an abortion at eight weeks.
She also said she attempted to take her own life while pregnant.
Under a new law, abortion is permitted when a woman is at risk of suicide.
The review has been sought by Health Service Executive (HSE) Director General Tony O'Brien.
The HSE said the team will work with "a view to completing the report in the shortest time possible, provided unforeseen circumstances do not arise".
Last night, the HSE published the terms of reference for the investigation.
A team of four people will seek to establish the facts of what happened while the communication between different health service providers will also be assessed.
A number of demonstrations, by pro-life and pro-choice groups, took place in Dublin on Saturday following the controversy surrounding the issue.