Italy finds six bodies after another migrant boat sinks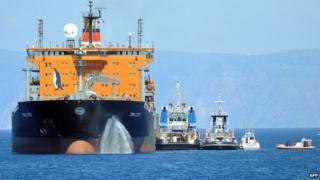 At least six people have drowned after a fishing boat carrying migrants from North Africa got into trouble south of the Italian island of Lampedusa.
Rescue workers say they have managed to pull more than 360 migrants alive from the water.
It is the third such incident to take place on the migrant route between Libya and Italy over the last few days.
The Italian coastguard says it has rescued nearly 4,000 people altogether over the weekend.
On Friday, dozens were feared dead after a wooden boat carrying at least 170 Africans capsized off the Libyan coast. The coastguard said it had only rescued 17 people.
Eighteen more bodies of migrants were discovered aboard a sinking inflatable dinghy on Sunday.
Libya is used as a departure point by many African migrants trying to enter the European Union illegally.
Last year, hundreds of migrants drowned when two boats sank in waters off Lampedusa. Italy has since stepped up navy and coastguard operations.
But the continuing influx of migrants has led to renewed Italian government demands for more help from the EU, says the BBC's Alan Johnston in Rome.
EU Commissioner for Home Affairs Cecilia Malmstroem said she was appalled by the latest deaths and has called on member states to provide more assistance to Italy.