Captured Russian troops 'in Ukraine by accident'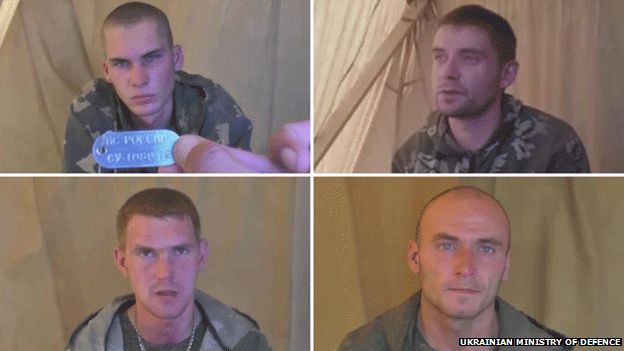 Ten Russian soldiers captured in eastern Ukraine crossed the border "by accident", Russian military sources are quoted as saying.
Ukraine has released video interviews of some of the seized paratroopers.
The incident comes as the Ukrainian and Russian leaders have held their first-ever bilateral talks in Belarus.
More than 2,000 people have died in months of fighting between Ukrainian forces and separatists in the Donetsk and Luhansk regions.
The two regions declared independence from Kiev following Russia's annexation of the southern Crimean peninsula from Ukraine in March.
A Russian defence ministry source was quoted by the Russian news agency RIA Novosti as saying: "The soldiers really did participate in a patrol of a section of the Russian-Ukrainian border, crossed it by accident on an unmarked section, and as far as we understand showed no resistance to the armed forces of Ukraine when they were detained."
The source also said that some 500 Ukrainian servicemen had crossed the border at various times, adding: "We did not give much publicity to that. We just returned all those willing to return to Ukrainian territory at safe places."
Ukraine's security service said its military had captured the 10 Russian paratroopers near the village of Dzerkalne, about 50km (30 miles) south-east of the rebel-held city of Donetsk and about 20km from the Russian border.
Ukrainian military spokesman Andriy Lysenko said: "This wasn't a mistake, but a special mission they were carrying out."
A Ukrainian television report that carried the interviews with the men said they were from the 331st regiment of the 98th Svirsk airborne division.
It quoted one man, named as Sgt Andrei Generalov, as saying: "Stop sending in our boys. Why? This is not our war. And if we weren't here, none of this would have happened."
Russia has repeatedly denied Ukrainian and Western accusations that it is supporting the rebels.
On Monday, Ukraine said an armoured column had crossed the border into south-eastern Ukraine, sparking clashes near Novoazovsk.
Mr Lysenko said on Tuesday that Ukrainian forces had destroyed 12 armoured infantry carriers there. He said 12 Ukrainian military personnel had been killed in the past 24 hours.
Mr Lysenko said four border guards had been killed by fire from Russian Mi-24 helicopters.
Meanwhile, Ukrainian President Petro Poroshenko and his Russian counterpart, Vladimir Putin, have met behind closed doors to discuss the crisis at a summit in the Belarusian capital, Minsk.
So far no details have been released of their meeting.
The summit is taking place under the auspices of the Moscow-led Eurasian Customs Union, which also includes Belarus and Kazakhstan.
It is also being attended by senior officials from the European Union which, along with the US, has imposed sanctions on Russia for failing to rein in the separatists.
Before they began their bilateral talks on Tuesday evening, Mr Putin said the current conflict could not "be resolved through further escalation of the use of force", and required direct dialogue with the separatists.
Mr Poroshenko has insisted that the only way to end the bloodshed and stabilise the region is by establishing effective border controls.
The pair last met briefly in June at the D-Day commemorations.
Analysis: The BBC's Oleg Boldyrev in Minsk
The gulf between the positions of Ukraine and Russia is huge. Russia wants an unconditional ceasefire in eastern Ukraine. But Ukraine has the upper hand against the rebels there and does not want to simply stop and let them regroup.
Russia stresses that Ukraine must talk to the rebels, but Ukraine says the rebels are not a force of their own - rather an extension of Russia's hostilities, and it is Russia that must talk to the rebels and persuade them to lay down their weapons.
What will bridge this gulf after so many months of fighting remains unclear.