Berlin's embattled mayor Klaus Wowereit to quit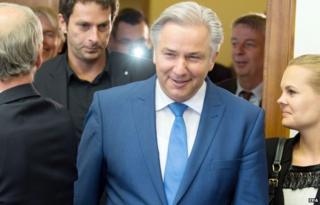 Berlin's mayor Klaus Wowereit has said he will step down on 11 December amid an ongoing row over the city's new airport.
As mayor of the German capital since 2001, he was credited with giving it a "poor, but sexy" brand internationally.
Mr Wowereit, a Social Democrat, was widely popular but his reputation was tarnished by the debacle over the opening of Berlin-Brandenburg airport.
The airport was due to be inaugurated in late 2011 but it is still not open.
Mr Wowereit, 60, still had two years of his term to serve and it is not yet clear who will replace him.
He told a news conference in Berlin that he was leaving the post of his own "free will".
"I'm proud that I have made a contribution to the city's positive development," he said.
'Biggest failure'
The new airport is due to replace Tegel and Schoenefeld airports and handle some 27 million passengers a year.
As head of the airport's supervisory council, he was widely criticised for repeated delays, but survived a confidence vote in the Berlin senate in January 2013.
He admitted on Tuesday that the fact the airport was not yet open was the "biggest failure" of his 13-year term in office, but it was not the only factor in his decision to step down.
"Some still think it was only a question of [the airport]. But no, we've had to get through several difficult times here."
Originally a lawyer, Klaus Wowereit became Germany's first prominent openly gay politician, achieving renown for his phrase: "Ich bin schwul und das ist auch gut so" (I'm gay and that's okay too).
He was once pictured drinking champagne out of the shoe of an ambassador's wife and was once seen as a potential challenger to Christian Democrat Chancellor Angela Merkel.
He had initially hoped to announce his departure last month, he said, but had delayed his statement because of Germany's victory in the World Cup.