Russian media report 'invasion of Ukraine'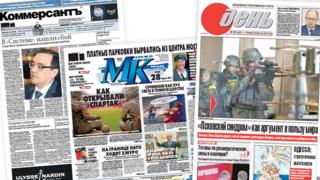 Reports that Russian troops are intervening directly in the fighting in south-east Ukraine have started to appear in Russian media, despite repeated denials from the Kremlin.
Newspapers and websites are quoting mainly Ukrainian and Western media reports about a Russian invasion, but some have also started to ask whether Moscow is now "fighting a war".
Many Russian social media users, however, say they have no doubt that Ukraine has been "attacked".
They echo sentiments in the Ukrainian twitter-sphere where #russiainvadesukraine, #StopPutin, and #UkraineUnderAttack have become the top trending hashtags.
The w-word
Treading carefully, many mainstream Russian newspapers are giving prominence to stories other than Ukraine, including President Vladimir Putin attending the opening ceremony of a new football stadium in Moscow.
The crisis is mainly mentioned in commentaries about Tuesday's talks in Minsk between the Russian and Ukrainian presidents, with Konstantin Bondarenko writing in Nezavisimaya Gazeta that "Vladimir Putin… showed he is not a bully and not a dictator" because "aggressors and dictators refuse to negotiate".
"We are all waiting for the media to start using the word 'war', at a time when politicians are not at all in a hurry to do this," says Russian commentator Oleg Kozyrev in a tweet.
Nevertheless, the "w-word" has begun to appear in Russian media, albeit slowly.
The website of liberal radio station Ekho Moskvy mentions it prominently in a report entitled "Ukrainian and Western media: Russian troops have captured the Ukrainian town of Novoazovsk".
Popular daily Moskovskiy Komsomolets quotes a Ukrainian source, and reports that an adviser to Ukraine's interior minister has accused Moscow of launching a "full-scale military invasion".
'Servicemen on leave'
Russian media are also carrying the words of the pro-Russian rebel leader in eastern Ukraine, Alexander Zakharchenko, who told Russian TV that 3-4,000 Russian citizens were fighting in the rebels' ranks.
"Are we fighting a war?" asks Vedomosti. "The number of unanswered questions about Russian soldiers killed and detained on the territory of Ukraine has reached a critical number," the daily says in its editorial.
"Is Russia waging war in Ukraine and, if so, on what grounds? If not, then who is in the fresh graves and who are the people being interrogated by Ukraine's secret service?"
"It's War," announces prominent Russian blogger Andrei Malgin. "The masks are off. There never were any militia or separatists [in Ukraine]".
One of Putin's fiercest critics, the exiled former oligarch Mikhail Khodorkovsky, agrees.
"We are really in war with Ukraine. The aging leadership needs blood. And we keep silent while burying children and brothers. I will not stay silent anymore," he tweets.
But others on social media still have doubts about reports of a Russian invasion.
"It is clear that Russia is providing material and other support to Donetsk militants, but a direct invasion by the [Russian] army has not yet been confirmed," tweets another popular Russian blogger, Rustem Adagamov.
'Battle for Ukraine'
Media in Ukraine, meanwhile, voice no doubt that Russia is waging a war against their country.
"Russian army units are no longer hiding their presence in south Donbass. Russian military hardware is coming… in convoys with dozens of vehicles, their insignias painted over," says Ukrayina Moloda daily.
An article in Kiev's Novaya Gazeta compares President Putin to Soviet dictator Joseph Stalin and criticises Moscow for "keeping silent" about Russian soldiers allegedly killed in Ukraine.
"Judging by the reaction of the Russian authorities, they want to disown their POWs. Stalin did not recognize his POWs, he treated them as traitors. His successors continue his tradition," the paper writes.
There is a price to pay for Crimea, Ukrainian journalist Leonid Shvets writes in Facebook. He says that Russians are already paying it with "the lives of their sons, husbands, brothers, friends and acquaintances".
"Vladimir Vladimirovich [Putin] is thanking you for applauding him," he adds.
BBC Monitoring reports and analyses news from TV, radio, web and print media around the world. For more reports from BBC Monitoring, click here. You can follow BBC Monitoring on Twitter and Facebook