Poland bars Russian minister's jet from airspace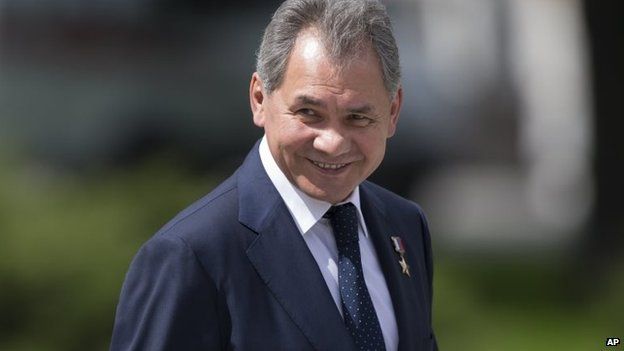 Poland has refused to let a plane carrying Russian Defence Minister Sergei Shoigu fly through its airspace.
The plane turned back to the Slovakian capital, Bratislava. Mr Shoigu had been on an official visit to Slovakia.
Poland said the plane had been barred because it had changed its status from a civilian to a military flight. It later permitted the flyover, after the flight was reverted to civilian status.
Russia said blocking the flight was a "violation of inter-state conduct".
The EU has imposed a travel ban on many Russian officials as part of the sanctions over Russia's involvement in Ukraine. However, Mr Shoigu is not one of the blacklisted officials.
Ukraine had also refused to allow the flight to enter its airspace, Reuters and Russia's RIA news agency reported.
Russia's First Deputy Foreign Minister Vladimir Titov described Poland's move as "a crude violation of the norms and ethics of inter-state conduct", Interfax news agency reported.
Later on Friday, a Polish armed forces spokesman, Lt Col Piotr Walatek, said permission was granted to the plane after it changed its status back to a civilian flight from a military one.
The flight had civilian status when it left Moscow on Friday, but changed its status to military when it attempted to fly back, he said.
Military flights required 72-hours advance notice, he added.
Mr Shoigu was in Slovakia attending an event commemorating the 70th anniversary of the Slovak National Uprising against Nazi Germany, Russian media reported.
Poland has been a strong advocate of sanctions against Russia over Moscow's support for the pro-Russian separatists fighting in eastern Ukraine.