Woman injured in fire in tent at Electric Picnic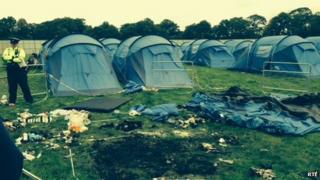 A woman has been injured in a fire at a music festival in County Laois.
It is understood a fire broke out in the tent she was staying in with a man around 05:00 BST on Saturday.
It is believed the couple lit a number of candles before falling asleep and as a result a sleeping bag caught fire.
She was taken to hospital in Portlaoise and later transferred to hospital in Dublin. Her injuries are not believed to be life-threatening.
The 31-year-old's condition is described as comfortable.
The man who was also in the tent was treated at the scene for minor injuries.
Tens of thousands of people are in Stradbally for day two of Electric Picnic, the three-day music and arts festival.