Poland commemorates 75 years since WW2 invasion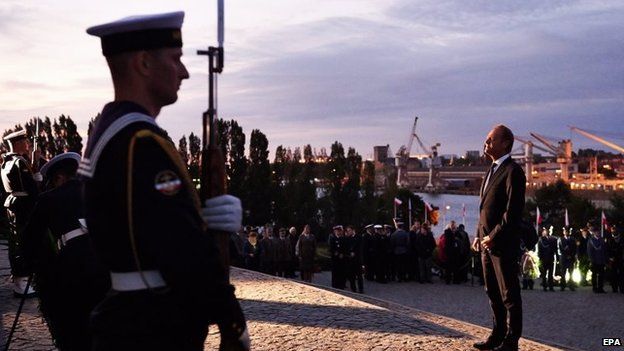 Poland has marked the 75th anniversary of the start of World War Two with a wreath-laying ceremony at Gdansk port.
Prime Minister Donald Tusk commemorated the dead of the war's first battle.
Nazi Germany invaded Poland on 1 September 1939, shelling a Polish garrison at Gdansk. Britain and France declared war on Germany two days later.
Polish and German presidents Bronislaw Komorowski and Joachim Gauck will also meet to honour the war dead and discuss the war with young Poles and Germans.
Mr Tusk laid a wreath at a monument to Polish victims of WW2's first battle at 04:45 local time (02:45 GMT).
He also referred to the current conflict between Ukrainian troops and pro-Russia separatists, saying it was not a time for "naive optimism".
Poland has been a strong advocate of sanctions against Russia over Moscow's support for the separatists fighting in eastern Ukraine.
At the scene: Adam Easton, BBC Warsaw correspondent
Poland's Prime Minister Donald Tusk stood with his head bowed after laying a wreath as dawn began to break over the monument to the dead of the World War Two's first battle.
On this day 75 years ago, at 04:45, the German cruiser Schleswig-Holstein, which was docked on a friendship visit in the free city of Danzig, now Gdansk, opened fire on the small Polish garrison on the Westerplatte peninsula. Simultaneously thousands of German troops crossed over the Polish border. The Second World War had begun.
Mr Tusk's thoughts were also on the present. He said the phrase "no more war" had taken on a completely different meaning in the light of what is happening in Ukraine.
Today is neither the time for "beautiful speeches" nor "simple optimism" he said. Europeans must learn the lesson of World War Two, which is, there is no place for "naive optimism", he added.