Crimea seizes Ukraine oligarch Ihor Kolomoisky's hotel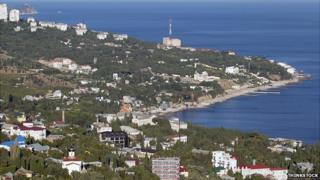 Russian-backed bailiffs in Crimea have seized a luxury seaside hotel complex linked to one of Ukraine's richest businessmen, Ihor Kolomoisky.
The Tavria sanatorium in Foros is owned by Mr Kolomoisky's bank PrivatBank.
Crimean prosecutors investigated Tavria because Mr Kolomoisky is suspected of financing "terrorism", the Russian daily Izvestia reports.
Russia annexed Crimea in March after its troops and local gunmen had seized key installations on the peninsula.
Izvestia says an exclusive apartment complex called Nautilus in Gurzuf, another Crimean seaside resort, is also at risk of seizure by bailiffs. The company which runs the complex, Edelweiss-2000, is a partner of PrivatBank.
Forbes business website estimates Mr Kolomoisky's fortune at $1.6bn (£964m). He has industrial assets as well as his banking business.
Since March, he has been in charge of Ukraine's eastern Dnipropetrovsk region, a centre of heavy industry. The oligarch funds a local militia whose job it is to prevent destabilisation by pro-Russian separatists.
The fighting raging in neighbouring Donetsk and Luhansk regions has not spread to Dnipropetrovsk. But Donetsk separatists have ransacked branches of PrivatBank.
Russia's annexation of Crimea was condemned internationally. For decades the port of Sevastopol has hosted Russia's Black Sea Fleet, but Crimea as a whole has been part of Ukraine since 1954.