Calais mayor warns of blockade over migration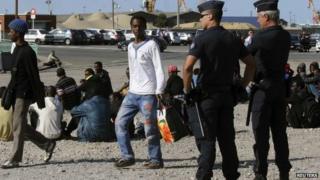 The mayor of the northern French city of Calais has threatened to block the port unless Britain does more to control the number of migrants.
Natacha Bouchart said that her city was being "taken hostage" by about 1,300 migrants from the Middle East, Asia and Africa who are attempting to cross the English channel from France.
She said that the migrants were costing too much and making life unpleasant.
Many believe the UK will be a more welcoming place if they can get there.
In 2002 the French government closed the main Red Cross centre at Sangatte near Calais, but unsanitary camps have constantly sprung up in its place since then.
In recent months French police have tried to break up the camps, but the migrants say they have nowhere else to go. They can be seen sheltering under plastic bags and sheets, and many depend on charities for food.
"I could take the decision to block the port. I could bring pressure to bear," Ms Bouchart told journalists in Paris after discussing the problem with Interior Minister Bernard Cazeneuve.
"It would be illegal," she accepted, "but today I want to make a strong gesture towards the British."
The mayor complained that British immigration policy made the UK be seen as "an Eldorado" by immigrants.
She criticised Britain for demanding security is boosted at Calais on the one hand without sufficiently financing the 10m euros ($13m; £7.8m) improvement project on the other.
The mayor said that while she had not discussed her port blockade idea with Mr Cazeneuve but she urged him to open "strong negotiations with the British".
The minister - who was in the UK last week - has appealed to Britain to help finance security at the port, ministerial sources quoted by the AFP news agency said.
Ms Bouchart said Mr Cazeneuve had approved her proposal to create a day centre for migrants.
Calais is the nearest French port to England and millions of British tourists travel through the town every year.