Ukraine crisis: 'Frozen conflicts' and the Kremlin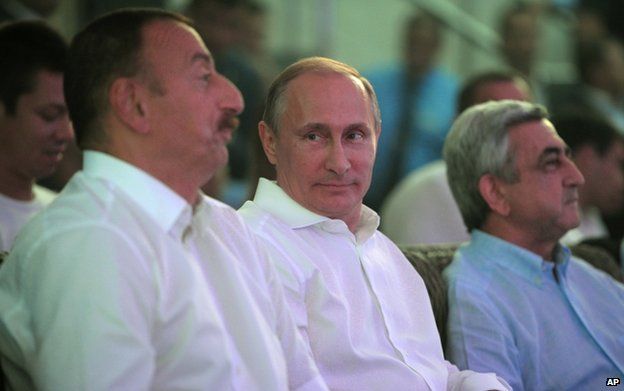 Russia has been accused since the collapse of the USSR of destabilising its former Soviet neighbours to keep them in its orbit.
Nato chief Anders Fogh Rasmussen told BBC News at the recent Nato summit in Wales that Russian President Vladimir Putin wanted to see "protracted, frozen conflicts in the neighbourhood" to stop countries which used to be in Moscow's sphere of influence from integrating with the EU and Nato.
That was why Russia had annexed Crimea and destabilised eastern Ukraine, he said.
The idea is that a bloody, territorial conflict with no obvious solution is put on hold, with Russia stepping in to keep the peace on its own terms.
Moldova's breakaway territory of Trans-Dniester and Georgia's rebel regions of South Ossetia and Abkhazia were given as examples of this policy.
Analysts would add Nagorno-Karabakh to the list, even if Russia's role in that protracted dispute between Armenians and Azeris is not immediately evident.
It has to be said, too, that Russia is often regarded as a benefactor and protector by the people who actually live inside the "frozen conflict" zones, while many Russians feel a sense of duty towards expatriates and anyone "loyal" to the old USSR.
So what are the tell-tale signs that Russia is seeking to "freeze" a conflict in its interests?
"For one thing, Moscow is very skilled at using soft influence operations to generate demand for its 'protection'.
For Michael Cecire, the unorthodox and varied methods Russia has used in eastern Ukraine, described as "hybrid warfare", have been deployed before "across the Russian periphery".
"In Georgia, Moldova and even Azerbaijan, Moscow has helped cultivate conditions to foment vocal sentiments favouring separatism even in situations where the population is far from a consensus, as polls in Ukraine have shown," he says.
"As separatism leans towards armed conflict, Moscow has been very skilled at facilitating the transfer of weapons, supplies, and 'volunteers' to feed separatist forces' strength."
"Originally it was just an opportunist policy but later on it proved to be a rather effective tool and so it became a standard device of Russian policy," he says.
"Frozen conflicts are the leverage used by the Kremlin to influence the general policy of the corresponding countries."
This pattern can be seen in the very personalities involved in the conflicts.
The former commander of an elite Soviet police unit in Latvia, Mr Antyufeyev played a key role on the rebel side in Trans-Dniester, when the mainly Russian-speaking area rebelled against growing Moldovan nationalism in the early 1990s.
So how might Russia gain from fostering these zones of permanent instability?
For one thing, its strategic goal of limiting the expansion of Nato is served because the existence of an unresolved territorial dispute with a neighbouring state apparently precludes membership of the alliance.
Asked if Ukraine could join Nato now, Sutyagin says: "No, not at all because the Nato charter says no-one can join Nato until it resolves its territorial problems with its neighbours."
Andrei Piontkovsky, a Russian affairs commentator known for his sharp criticism of President Putin, believes the three-term Russian leader has a personal interest in maintaining instability in Ukraine, with its orientation towards the EU.
"His ultimate objective is his presidency for life," he told BBC News last week.
"So Ukraine has no right to become a democratic, economically open state. From Putin's point of view, that would create a very bad example for Russia."
Ukraine's eastern rebels, however, would argue that it was Ukrainian nationalists who usurped democracy and sparked conflict in Ukraine in the first place by forcing out "their" pro-Russian elected President, Viktor Yanukovych.
If the genesis of these conflicts is a matter of dispute, then so is the success of the Kremlin's own alleged policy of destabilisation.
"The original device in Crimea was not independence but greater autonomy as a semi-independent entity," says Sutyagin.
"When the Kremlin gave in to the temptation to annex Crimea, it became necessary to replace it with another conflict, in the east. It is against the Kremlin's interests to annex territory because an unresolved dispute gives it the opportunity to influence the country involved."
Nonetheless, Russia's annexation of Crimea from Ukraine probably best exemplifies an "international dispute" of the kind cited by Nato's charter as an obstacle to membership.
For Sutyagin, the war of 2008, when Georgia tried to regain South Ossetia by force, ended in failure for Russia because South Ossetia and Abkhazia went on to declare independence and Russia recognised and feted them.
"Georgia has accepted de facto that it has lost them so the Kremlin has lost very important leverage to push Tbilisi in its direction," he argues.
If there is indeed a Kremlin policy of keeping conflicts in its backyard "frozen", it appears, then, to be subject to the whims of Russia's leader.
Yet it is a policy unlikely to go away any time soon.
"The Russian strategy of cultivating external allies and using their plight as a casus belli is an old strategy that has echoes in Tsarist wars of southern expansion," says Cecire.
"Religious affinities were cited when Georgia, under pressure from Muslim powers to the south, was absorbed by the Tsarist empire under Georgian King Heraclius II. Even the Crimean war began with Russian protests against the treatment of Orthodox Christians by the Ottoman Empire in the Holy Lands. This is not a new strategy for Russia."
BBC News approached the Russian foreign ministry for comment on the accusation that Russia deliberately uses "frozen conflicts" as a tool of policy. There was no immediate comment.
Russia simultaneously occupies the roles of aggressor, guarantor and peacemaker in Trans-Dniester. When Russian forces intervened on the side of separatists during the "undeclared war" with Moldova in 1992, they achieved a military victory and imposed a peace, maintained by Russian "peacekeepers".
Trans-Dniestrians are encouraged to see themselves as Russian "compatriots" - subject to a potential Russian humanitarian/military intervention. Russia provides economic subsidies, finances infrastructure and gives all pensioners an extra $15 (£9.30) a month. This is a huge amount for people with nothing.
There are ideological benefits from being "Russian" as opposed to citizens of Europe's poorest country, though many hold multiple passports, with Moldovan citizenship increasingly popular as they now enjoy visa-free travel to Europe.
By "freezing" this conflict, Russia has a de facto veto over Moldovan policy.
Life in 'frozen' Trans-Dniester
Despite certain stereotypes, Trans-Dniester is a quiet, civilised, peace-loving country even if it has yet to be recognised. The uncertainty over the status creates problems with documents, money etc. To travel abroad every citizen has to take the citizenship of another country, mainly Russia, Moldova and Ukraine.
Not having recognition hurts the economy too. Young people who see no prospects here often leave in search of better work and pay.
My country is Russia so I am a citizen of that country in addition to Trans-Dniester, where I was born. Russia supports us in many ways, from supplying free gas to building new schools and kindergartens.
Of course, events in Ukraine have affected us. For example, Ukraine has stopped allowing us on to its territory, especially those of us who have Russian passports. If it was not for Moldova, we would be blocked off completely. Citizens here mostly have good relations with Moldova.
By Michael Cecire, Foreign Policy Research Institute, Philadelphia
Russia's role in South Ossetia and Abkhazia is at least partially a means of destabilising Georgia and stemming Euro-Atlantic expansion but that is not the whole story. It is also very much a strategic lever that Moscow can use to calibrate its dealings with the Georgian government itself.
Russia's recognition of Abkhazia and South Ossetia was in many ways self-defeating. One suspects the errors of this strategy at least partially motivated the Russian decision to opt for direct annexation of Crimea rather than "recognise" yet another rump statelet.
In South Ossetia, unification with North Ossetia (and therefore Russia) is very much on the table. In Abkhazia, the situation is more complicated. For all its supposed independence, Abkhazia remains utterly dependent on Russia for defence, trade and budgetary transfers. But the ethnic Abkhaz will push back strongly against any moves towards Russian annexation.
Situated to Russia's strategically vulnerable southern flank, the conflict over the Armenian enclave of Nagorno Karabakh has emerged as perhaps the next flashpoint.
Russia has long played both sides in this conflict, which defines a deep division between Armenia and Azerbaijan, as the leading arms provider to all parties and through its diplomatic "mediation" that has seemingly done little more than maintain the status quo of an unresolved conflict.
But as the Karabakh conflict is moving from a "frozen" to a very "hot" conflict, Russia now seems poised to don its cloak of mediator.
President Putin convened the leaders of Armenia and Azerbaijan in August for a stern lecture after renewed clashes. The next stage of this new "Putin paradigm" is perhaps an even more risky move to be the conflict's sole arbitrator.