Russia to reopen Northern Fleet base in Arctic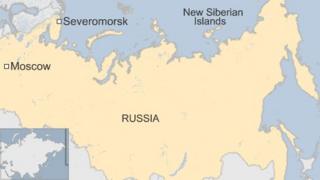 Russia has dispatched a group of ships from its Northern Fleet to the Arctic, with the aim of restoring a permanent base in the region, Russia media say.
A detachment including two amphibious vessels and an anti-submarine ship set off from the fleet's base in Severomorsk, near the Norwegian border.
It will take equipment and personnel to the eastern New Siberian Islands.
Russia is boosting its naval presence in the Arctic as regional powers seek to claim its rich natural resources.
"The main aim of another expedition of the Northern Fleet's vessels to the Arctic region is to deliver personnel, equipment and inventory of a Northern Fleet tactical group, which from this year on will serve on the New Siberian Islands on a permanent basis," said fleet commander Adm Vladimir Korolev in a Defence Ministry statement.
Adm Korolev added that the fleet's aircraft would be used to monitor weather and navigation conditions during the journey.
Icebreakers will be used for some parts of the journey, the agencies said.
The detachment includes:
anti-submarine warfare ship Admiral Levchenko
large amphibious ships Georgiy Pobedonosets and Kondopoga
tanker Sergey Osipov
rescue tug Pamir
Baltic Fleet mooring vessel Aleksandr Pushkin.
The original base on the islands was abandoned in 1993.
Ten ships went to the islands last September to restore an air force commandant's headquarters.